"What I learned from my father was that life is too short, but if you treat others with love, kindness and dignity, you don't count it by the years. You count it by the lives you've brightened along the way."
That was the wisdom Ruben Duane Gutierrez shared as a community came together to say goodbye to his late father, Ruben Dario Gutierrez, on Thursday at Cedar Street UMC.
As Pastor Karen Kay Jones concluded the opening prayer, those in attendance turned to see where the music had suddenly come from as a mariachi band paraded into the church. Gutierrez's family said they wanted the community to see that though saying goodbye is painful, it doesn't have to be a dark time.
Ruben Gutierrez, 69, died a week ago after complications stemming from a battle with Legionnaires' disease, which he may have contracted at the East Texas State Fair while registering voters in September. More than 100 people packed into the small church to pay their respects, writing notes on a quilt on the way in about how Gutierrez had impacted their lives. His wife, Susan, and their children Rebecca, Ruben Duane and Regina shared hugs and stories with the people Gutierrez had made just as close as family.
Gutierrez's story began nearly a century ago when his mother, a U.S. citizen, was unjustly deported as part of the Mexican Repatriation Act. The federal government now estimates that about 60% of the people deported were in fact citizens. Estimates range from 400,000 to more than 1 million people of Hispanic descent being deported in the late 1920s and early '30s.
His parents are where the beloved community leader first learned about activism though, Jones said. His father, Jose Gonzalez Gutierrez, led a march on Mexico City to protest the conditions of the mine he worked in, where he would later die in an accident. His mother, Zoila, worked hard and brought her family back to America, becoming a naturalized citizen in a ceremony with Ruben and his brothers.
Memorial service for Ruben Gutierrez
After moving to the U.S. Ruben took a year off from school to learn English. He immediately began to help others do so, teaching English as a Second Language classes throughout his life and occasionally volunteering to translate for the Mexican Consulate.
He served whenever he could throughout his life, whether running for justice of the peace in Deaf Smith County many years ago, serving as a precinct chair for the Smith County Democratic Party, or his efforts to uplift his fellow immigrants and help them create safe and bountiful lives in the country he loved so much.
One of the projects he cared most deeply about was Justice for Our Neighbors East Texas. The family hopes others will donate in his honor to help continue that group's mission.
"No matter how much he had, he never wanted it all," his son Ruben said. "He always wanted to share it with others."
Gutierrez's family helped others celebrate his life through the music he loved, from the country that raised him to the one he chose.
"My strength is seeing you all here. My solace is knowing all of the love he gave," his daughter, Rebecca Gutierrez, said. "My dad gave me all of my greatest loves. My love for nature, my love of music, my love of sports, my love of family and my love of public service."
She said her father was always a helper and always wanted to lift every voice.
After speaking, she sang one of her father's favorite songs, "Gracias a la Vida," for him.
"Te amo papa," she whispered as she set down the microphone and wiped away tears.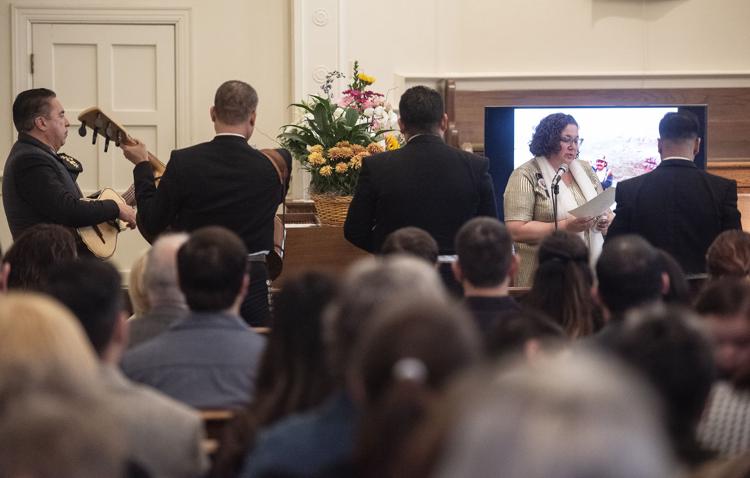 Later in the ceremony she led the entire standing-room-only group in singing "Blue Skies."
"Thank God for Willie Nelson," she said afterward. Nelson, who recorded the song, was one of Gutierrez's favorite artists, and he went to every concert he could.
Smith County Democratic Party Chairman Michael Tolbert spoke about his friend and his efforts.
"As I look at the program, I'm reminded what a sincere smile can tell you about a person," Tolbert said. "Ruben will always be our justice of the peace."
Tolbert shared a story of Gutierrez's time as a corrections officer in the prison at Tennessee Colony, when the power went out and he was stuck in a room full of inmates. He had earned their respect and trust, and they told him not to worry.
"I think that is a testament to the kind of person Ruben was," Tolbert said. "Don't let the system change you. Ruben didn't let the system change him. He changed the system with who he was."
Jones began to draw the service to a close, speaking about the qualities of prophets in the Bible. She said a prophet teaches others to do justice, live kindness and walk humbly. Those were all qualities Ruben Gutierrez shared, she said.
"Ruben probably wouldn't say it with words, he'd show us," Jones said. "Ruben knew the ways to make brokenness whole and he would tell us to do it one person at a time."
Afterward Rebecca and Ruben Duane Gutierrez shared one more of their father's favorite songs, "I Can See Clearly Now." The Willie Nelson version, of course.
Susan Gutierrez said her husband would want the people who came to say goodbye to remember that it's nothing but blue skies if you remember to look.