Emanti and eMacembe "Mac" are adjusting well to their new home at the Caldwell Zoo. The 9-year-old and 8-year-old African elephants arrived April 5 after a 33-hour truck ride from the San Diego Zoo's Wild Animal Park.
Caldwell Zoo Curator of Mammals Scotty Stainback said the process to get the half-brothers to Tyler started about two years ago.  
"It was a big move for us," Stainback said. "It was a recommendation from the Species Survival Plan."
Stainback said female elephants push the young males out of the herd when they get to be a certain age.
"That's what happened to Mac and Emanti and we were able to bring them here," Stainback said. 
The 5,000-pound elephants were trained to ride in their shipping crates by the staff in San Diego until the staff was comfortable the elephants would be safe when they were riding to Tyler in semi-trailers.
Staff members from San Diego came to work with the Caldwell Zoo staff and introduce Mac and Emanti to Tonya, Caldwell's resident elephant. Tonya is 42 years old and has been at the zoo for more than 30 years. 
Stainback said he spent a week in San Diego with the wild animal park's staff learning about Mac and Emanti.
Stainback said Tonya welcomed the younger elephants into the exhibit and the three have had no issues sharing their home. 
The trio enjoys eating fresh cut browse, the tree limbs cut each morning by the zoo's horticulture department, fresh produce, elephant pellets made of alfalfa and coastal hay. 
"We cut up and feed them apples, sweet potatoes, celery and cucumbers every day," Stainback said. "Browse is their favorite. It's a mixture of sweet gum, elm, cotton wood and willow. We put it out three times a day." 
Stainback said the Caldwell Zoo staff also bathes the elephants, trims back the pads of their feet and takes their blood so their health can be monitored. 
"They get exercised every day," Stainback said. "We do stretches with them by getting them to lift their feet into the bars of their exhibit. We put hay in an elevated hay net so they can stretch out their necks and trunks like they would do in the wild."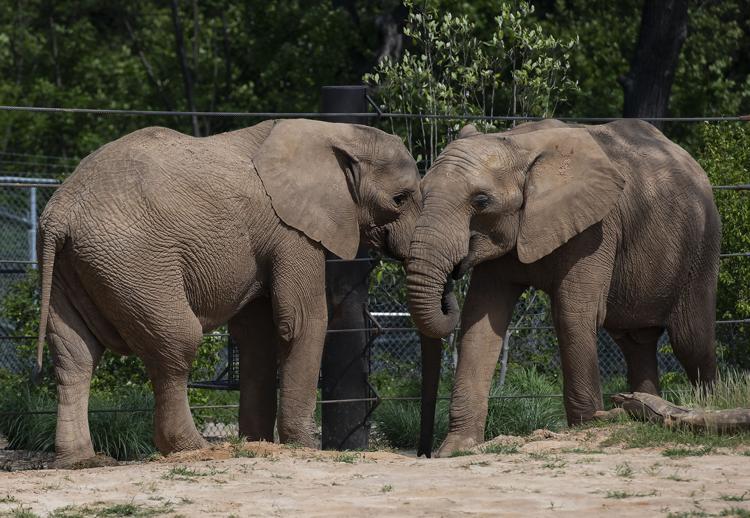 Stainback said Mac and Emanti were born at the San Diego Zoo and will remain ambassadors for their wild species and not be released back into the wild.  
Magen Arab, of Austin, said she enjoys bringing her young children to the Caldwell Zoo when she visits her mother in Tyler.
"The zoo in Austin is a rehabilitation zoo, so it's nice to come here and see the animals," she said. 
Arab's 4-year-old son, Jack, said he likes how the elephants get water with their trunks and eat with their trunks. 
"They are ambassadors for their wild counterparts," Stainback said. "They're very intelligent animals. We haven't had young elephants at the zoo in a long time. They have revitalized the exhibit."