The Democratic candidate running to unseat U.S. Sen. Ted Cruz, R-Texas, sent his mother and sister to campaign for him in Tyler on Friday.
The two campaigned for U.S. Rep. Beto O'Rourke, D-El Paso, and drew an audience of about 50 people to Cindy's Event Center on Old Henderson Highway.
O'Rourke himself has visited Tyler a handful of times. In August, he drew several hundred people to a town hall event at a church on a Monday morning. This time, his family members took questions from the audience.
Melissa O'Rourke, his mother, and Charlotte O'Rourke, his sister, addressed some of the recent controversy surrounding his campaign, such as attacks made by the Republican party of Texas and Cruz's campaign.
In recent weeks, the party published a picture of him as a young adult wearing a dress on an album cover for his punk rock band. The Cruz campaign also has criticized the candidate's Hispanic nickname, "Beto."
"Beto is the first grandchild," Melissa told the crowd. "He's named after his two grandfathers, and my father is Robert. We couldn't call this child Robert, so 'Beto' is a very common name for 'Roberto.' He's been 'Beto' since he was a baby."
She said he was attacked for having a Hispanic nickname when he first ran for Congress in 2012, with some saying he was using a fake name to appeal to Hispanic voters.
"They used that same line," Melissa said. "Many of the things that are being said are unfortunately attacking — in a way I think the opposition thinks that's somehow going to work. But a lot of it is backfiring."
Melissa paused when an audience member asked if it was true she is a lifelong Republican. She said she identified as a Republican for years because she has a background in business.
"I think Republican meant something different," she said. "It has evolved into something I do not recognize, and I think there are a lot of Republicans that feel that way. I think I'm an independent."
"I vote, really based on the person," she said. "I just, I'm proud of what Beto stands for, what he's pushing for, and I think the majority of the country wants (what he wants). He's going to win, if we can just get the vote out. Mom just knows that."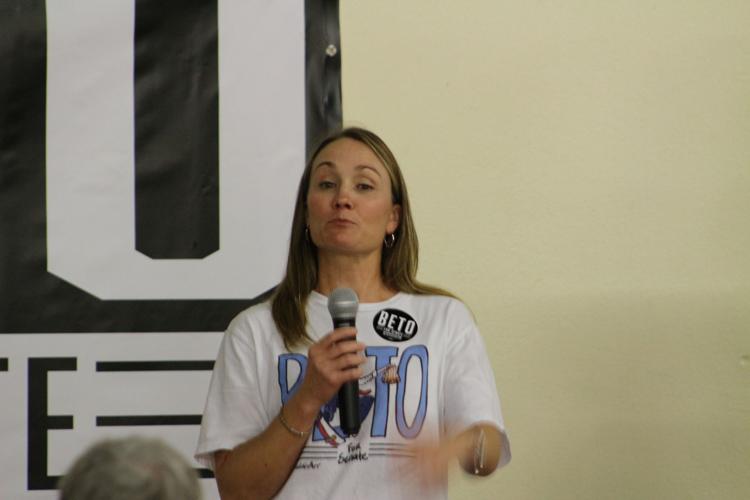 Charlotte joked that she was surprised that a picture surfaced of the candidate wearing a dress on the punk rock band's album cover because she had never seen him wear a dress any other time. She said he usually played in the band wearing khakis, like he wears now.
She also compared the candidate to their late father, who was a politician in El Paso County and died in 2001. She said their father was friends with people across party lines and treated everyone as equal to him. She said her brother does the same.
"I think what we really need to educate people on is that times are changing, and you can't vote strictly Democrat or Republican," she said. "Maybe you can vote everyone else (who is a) Republican, but you've got to look at the person."
TWITTER and INSTAGRAM: @_erinmansfield