The sale of a 543-acre property on the western side of Tyler is expected to bring the area new stores, offices, housing, recreation, restaurants, and maybe even a hotel.
The real estate development and ripple effects that stakeholders are expecting from the sale are so significant that they are rivaled only by what has been happening in the southern part of the city during the past decade.
The property, known as Bellwood Park, has been on the market for decades. Brokers involved in the sale describe multiple transactions over the past generation, often to land speculators seeking to watch it grow in value, but not to developers.
In 2008, a group of investors looked seriously at building a hotel and conference center on the land. However, the timing coincided with the height of the Great Recession, and the group ended up abandoning its plans.
"This is the first time a real developer has owned it with plans to develop it," said Taylor Fitzgerald, of Ben Fitzgerald Real Estate Services, which represented the buyer, Provident Realty Advisors, in the sale of Bellwood Park.
"This guy is a first-class developer, has over $1 billion in developments just in the (Dallas) metroplex," Fitzgerald said. "There are 50 to 60 acres he's going to sell for commercial use. We've talked to some resort-style hotels that might put something back on the lake back there."
Another potential draw would be a Topgolf-type venue, Fitzgerald said. That's an entertainment venue that's a combination of a sports bar and driving range. The golf balls have electronic chips in them that track where they go, making golf kind of like a video game.
"There are some new competitors in that niche that have similar technology that are already looking at Tyler," said Tom Mullins, the CEO of the Tyler Area Chamber of Commerce and Tyler Economic Development Council. "And there are some local folks that are actively involved in trying to find a location for that, and they are interested in that Bellwood property."
The property in question is about seven times the size of the Village at Cumberland Park, the first part of which was completed in 2014. And it's larger than all of the properties near West Cumberland Road rezoned earlier this year for the Genecov Group, Roosth Properties and Robert H. Allen and Elizabeth Dee Allen Trusts — combined.
Recent major development projects
| Company | Acres |
| --- | --- |
| Bellwood Park | 543 |
| Genecov Group | 294 |
| Roosth Properties | 115 |
| Robert H. Allen and Elizabeth D. Allen Trusts | 87 |
| Village at Cumberland Park | 78 |
| | |
The current zoning could accommodate more than 100 single-family homes, more than 250 estate lots, and more than 2,800 mixed-use units, according to the offering documents from the sale. Another 52 acres could be used for commercial and retail, plus 5 acres for an amenity center, and 99 acres of parks and green space, the offering says.
This is a change for Tyler, which has a decades-long pattern of annexing land bordering the southern part of the city. As developments in the past decade have boomed on South Broadway Avenue and Old Jacksonville Highway, residents who relocate complain about traffic.
"It's a game-changer for the west side," Mullins, from the Chamber of Commerce, said. "We think if it became an upscale kind of retail and entertainment venue that people would come to it from all directions."
"Tyler is going to have to start growing in different directions from just continuing to grow along South Broadway, because that's getting congested and it's frustrating people because of the traffic that they have to deal with," Mullins said.
"And it's very unusual for a community of our size to have a huge, undeveloped piece of property like that that's flat, easy to build on, with all that infrastructure already in place," he added.
The idea of a master-planned community exists all over Texas. In Smith County, Hideaway Lake, near the city of Lindale, is a master-planned gated community with 5,000 people. The community started in 1967 and has more than 1,600 homes with more than 3,000 members.
"The Woodlands (near Houston) is a great example," said Steve Fitzpatrick, a Tyler architect not involved in the sale. "They planned the streets. They planned greenbelts to preserve trees. They put the retail in a certain area and businesses in a certain area and they worked out transportation where you could get in and out quickly, and it's grown. It works."
The original Hollytree development, the golfing community near South Broadway Avenue, was 450 acres. The difference is that Hollytree was mostly single-family homes with residential roads and lots, whereas The Woodlands was built like its own city on the border of another city, Fitzpatrick said.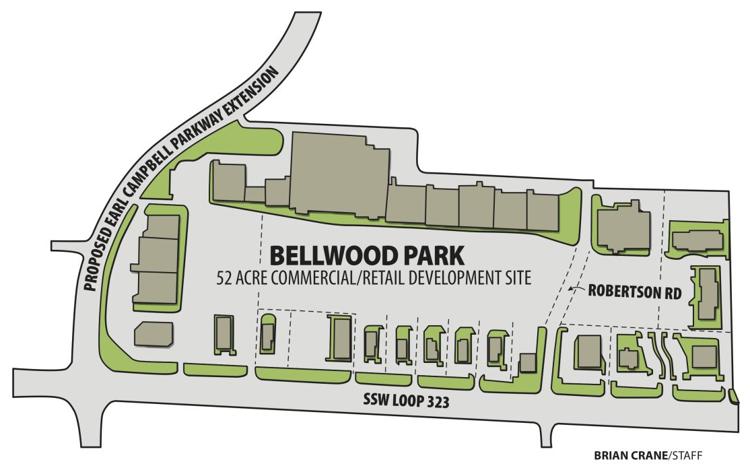 There is still another layer of government that Provident Realty Advisors must go through before dirt can start moving. While the Bellwood Park property was zoned for a variety of commercial, office and housing uses in 2008, that plan required the future developer to come back with a site plan to be approved by the Tyler City Council.
There was no such site plan requirement for Genecov or Roosth, according to Kyle Kingma, the city government's planning manager. However, those companies had been holding on to agricultural land for decades, and needed to change the zoning. Both processes involved lengthy and contentious neighborhood meetings.
"When it's already zoned this way, they've already done their due diligence and they understand what the site parameters are for that location and they understand they'll have to fulfill those requirements," Kingma said.
"When it was zoned 10 years ago or so, that was another developer's idea," Kingma said. "But my understanding is they're aware of what was approved and feel like they can make that development happen."
The city government's planning documents also call for an extension of Earl Campbell Parkway, which is effectively an extension of Sunnybrook Drive that runs between Texas Highway 155 and ESE Loop 323. The city paid to build the road, which opened in 2012, with $14 million from a designated sales tax fund.
The city's long-term planning documents call for the road to be extended north and west, until it hits Texas Highway 31, going toward Chandler. It's an open question how much the developer will need to pay for that extension.
"The code requires for a developer to put in the infrastructure that's required, so how much they're going to be required to do, that might be part of that discussion because it's such a large street to put in," Kingma said.
This is a major change from a year ago, when a businessman from China was considering buying the land for an East-meets-West community called Hongyun City. That project would have required a zoning change to allow for higher-density housing.
The Hongyun City project faced tough questions from city planning staff about its effect on city services, and the Planning and Zoning Commission sent the project back to the drawing board before it made it to the City Council. The businessman did not follow through with his plans.
City Councilman Broderick McGee represents the Bellwood Park area. He voted in favor of that project in 2017 while sitting on the Planning and Zoning Commission. In his race for City Council last spring, he said developing that property would be the most exciting project he could work on.
"I think the difference about this project is that the land actually has sold," McGee said. "When we had all the other things going on with the Chinese development, I don't think the land had ever been purchased.
"I think they were trying to get a lot of the zoning and whatever else kind of lined out first," he said. "If you've purchased the land and you put that type of investment in it, I think you're definitely going to start moving some dirt."
McGee said he would like to see some sort of hotel or events center built on the land. He said that's a logical location because of Tyler Pounds Regional Airport on Texas Highway 64.
He also sees a market for restaurants. There are few options besides fast food in the northern and western parts of the city, and he said he'd like people in the northern part of the city not to have to go all the way to South Broadway Avenue.
"I'm excited," he said. "I'm ready to get busy and see what we can do to try to get some things going there."
TWITTER and INSTAGRAM: @_erinmansfield