Crime is down in the area known as the Four Corners, where local hotels historically have been home to prostitution, sexual assaults, drugs and other offenses.
Law enforcement and city officials say they were able to bring crime down after putting pressure on owners of the nearby hotels by enforcing the city's building codes and threatening to seize their property.
The Four Corners is the area in Tyler near the intersection of west northwest Loop 323 and U.S. Highway 69. The intersection is just 10 miles south of Interstate 20, which runs from Dallas to Shreveport.
There are two gas stations on the northwest and southeast corners of the Four Corners, and motels on the northeast and southwest corners. Another 10 motels are concentrated on nearby parts of Loop 323 and Highway 69.
Tyler Mayor Martin Heines said at a public forum during his re-election campaign that the city has been working with the Smith County District Attorney's Office, the U.S. Attorneys Office and the federal court system to tackle the problems starting with the hotels.
"We have actually sent notification to the owners of those hotels that if we find violations that we will do federal seizure of those properties," Heines said, referencing asset forfeiture laws that allow law enforcement officials to take property used in crimes.
"They are working on cleaning it up," Heines said. "We have plenty of police officers to work on that, and they are committed to actually working on that area, and we have had success over the past year and a half.
"That is an area that it's completely unacceptable for this community what happens there. The human trafficking is an issue that's been elevated more and more because the I-20 corridor," he said. "It is just not acceptable what's going on, so we have done that."
Tyler Police Department officials declined to identify specific hotels, but released information on crime investigations at 12 nearby hotels in response to the Tyler Morning Telegraph's request under the Texas Public Information Act.
From 2013 to 2017, the number of crime investigations the Tyler Police Department opened into cases at six hotels near the Four Corners declined from 411 to 187— a 54.5 percent decrease—according to a data analysis by the Tyler Morning Telegraph.
In 2013, the most common reason for an investigation was a report of a suspicious person. There were 102 of those reports that year. By 2016, the number of investigations opened due to suspicious person reports fell to 51, and by 2017 it fell to 33.
Meanwhile, crime investigations related to drugs and drug paraphernalia have remained steady. At the six hotels, there were 26 cases related to drugs in 2013; 43 in 2014; 13 in 2015; 29 in 2016; and 23 in 2017.
The biggest category of drug offenses during those five years has been narcotic violations, which can include anything from heroin to pain pills. There were 14 narcotics cases at those hotels in 2013; 25 in 2014; 7 in 2015; 12 in 2016; and 9 in 2017.
Ed Moore, the Tyler city councilman who represents the northwestern region of the city, said he lives about three blocks from the Four Corners. He said he's seen a noticeable decrease in suspicious activity in the past 18 months, but there's still room for improvement.
"It was not conducive to people even wanting to shop or stop at the local restaurant," Moore said of the area a few years ago. "It just created an atmosphere, especially after dark, that people did not want to hang around, even at the local service stations in the area."
"When you drove up to a gas pump someone sat around wanting $2 or $3, asking you for money, and you could see prostitutes standing on the corner, or even at the store doing the solicitation," Moore said.
Sage Bhata, the manager of Stay Express Inn, formerly known as the Rosewood Inn, said she simply declines to rent to suspicious people and calls the police when they come in trying to rent a room.
"You can just tell because some of them, they're mostly on drugs," Bhata said. "You can tell when they come in. They're high, most of it. You can tell with the way they talk and walk."
Managers and owners of several other motels in the area did not return messages seeking comment.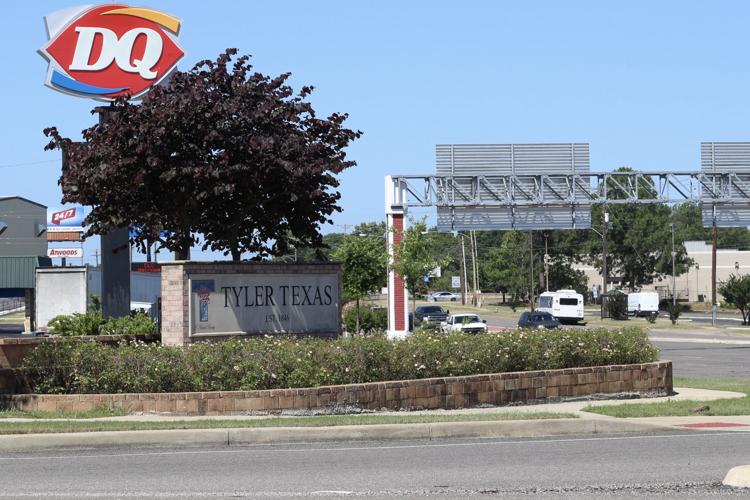 City Manager Ed Broussard said the threat of asset forfeiture has been enough to drive down the crime. He said some of the motel owners started cooperating, and others sold the motels.
That meant officials were able to achieve their goal of reducing crime in the area without being faced with seizing a property and then deciding what to do with a city-owned motel.
Moore said one way to decrease crime further would be for the local motels to raise their prices. Travel websites advertise room prices at motels on the four corners as low as $34 per night.
"Do a major renovation, whatever it takes, and raise the prices of your rental, because rental rates is the thing that drives crime," Moore said. With higher prices, he said, "then you actually curtail who your tenants are going to be."
Tyler Police Department spokesman Don Martin said the department is proud of the work it's done with others to reduce crime at the hotels because there are still people who come to Tyler and can only afford to book a cheap motel room.
"That area up there is where you may have travelers that are saying, 'Let's stop in Tyler for the night. I drove all day long,'" Martin said. "They're on vacation or whatever, so the first hotels they're going to get to are those.
"They may not have the faintest clue of what they're getting into," Martin said. "All they see is hotels. And they say 'Here's the Holiday Inn Express. That's a good name.' All of a sudden they're like, '... What's going on?'"
He said members of the public should know that police care about the crime in all parts of the city.
"We don't ignore any part of the city … and if it doesn't go away, we just keep (on), we hammer it," he said.