Some teachers change lives. Jan Gowin is one of them.
She has shaped the lives of thousands of young people at Jacksonville High School, and thanks to one quick-thinking student she's been given a second chance to change even more.
Everyone in Jacksonville knows Mrs. Gowin. If she didn't teach them biology in high school, then they know her as "the pie lady" at Sadler's Kitchen, which her family has run since 1943.
High school can be a trying time for teens, but Gowin makes them feel at home. During Pow Wow time, a loosely structured study-hall-type period, her classroom is usually filled with students who come to hang out with their favorite teacher while they work.
Earlier this month, though, Gowin suffered a stroke while alone in her classroom. The rooms are set up so that the doors automatically lock from the outside, which meant she was having a medical emergency and no one would have known.
Missing class usually isn't a good thing, but that day freshman Ta'Keriya Montgomery had missed her second-period class, and it might have saved Gowin's life.
Montgomery had gone to see Gowin to see if she had missed any work. The student said she knew something was wrong as soon as she got to the door. She recalls the teacher seemed disoriented and flustered because she had spilled her yogurt. Her suspicions were reinforced when Gowin asked her to help look for a spoon, even though the yogurt was on the floor.
That's when Montgomery remembered an Instagram post about the signs of a stroke.
"I sat her down (against a cabinet) and I asked her could she smile, could she raise her hands straight up in the air or speak a full sentence to me," Montgomery said. "She couldn't."
At that point, she helped Gowin lie down and ran for help. She knew time was the most important factor when it comes to strokes.
"I was scared, but not because I didn't know what to do. I was scared for Mrs. Gowin. I didn't know how fast they were going to get help for her," she said. "Is she going to be OK? I know a stroke, if you time it correctly, can be reversed in three hours."
Three weeks later, as Thanksgiving break drew near, students were once again hanging out in Gowin's class, thanks to Montgomery's quick thinking.
Senior Jaremy Singleton was relieved to have his mentor and friend back. He said Gowin is like a third grandmother to him.
"It made me really scared, I started going to church with her earlier this year. To know that she's in the hospital just made me really upset," he said. "I just prayed for her every night and anytime I got the chance to."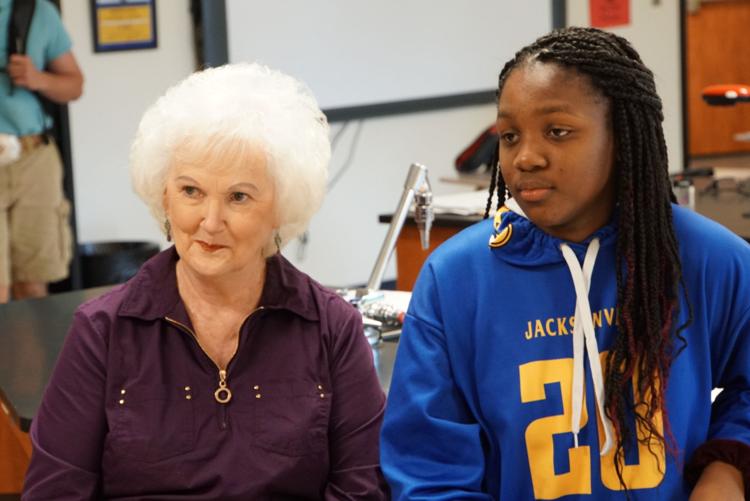 While she was out, the class got together to buy her a card and also began making a huge welcome back banner. The banner wasn't quite ready when she returned, though, because Gowin was ready to get back in the classroom far sooner than anyone expected.
"It's my passion, it's my love. When I came back to work my friends were asking why I was here, why wasn't I at home resting," she said. "I don't go to school to help the kids, I go to school to be helped by the kids. They keep me as young as you can be kept at my age."
While Montgomery and Singleton will tell you that Gowin is kind, nurturing, always willing to help and still holds you accountable, she would tell you it's the students who make each day worth it.
"They keep me sharp, because they're sharper than I am and I have to stay ahead of them," she said. "They laugh, they're funny, sometimes they're aggravating, but you know, I live off of them. They make me feel like I have a purpose in life."
Even her husband was shocked she was headed back to work after just a week, but being a teacher isn't something she can turn off. While recovering in the hospital, she was laughing and teaching the nurses and doctors memorization tricks about biology.
"I told (my husband) I rested for a week, I'm as rested as I've ever been in my life, I am ready to go back to school and go to work and see my kids," Gowin said. "I can't tell you how blessed I felt that God gave me the second chance to come back. Because I was given this opportunity, I'm gonna be here, I'm gonna take advantage of it."
Since 1973, Gowin has helped shape the minds of hundreds of future doctors and nurses. Ta'Keriya Montgomery is one of them. She's now taking health science classes and building a foundation to one day become a doctor.
And if Gowin has anything to say about it, she won't be the last student who comes through her class and goes on to save lives. She's looking forward to continuing to shape young minds as her fifth decade as an educator comes to an end.
"I don't have any plans to retire," she said. "I'm sure it'll happen, but I don't have any plans."