With the ringing of cowbells and cheers of enthusiasm from the Chapel Hill ISD Education Foundation crew down the halls, several district teachers were alerted of well-earned grants Tuesday morning.
This year's Teaching Innovative Grants empowered 13 dedicated teachers and staff members across the district with $8,800 in funding to bring their innovative ideas to life and enhance the educational experience for Chapel Hill ISD students.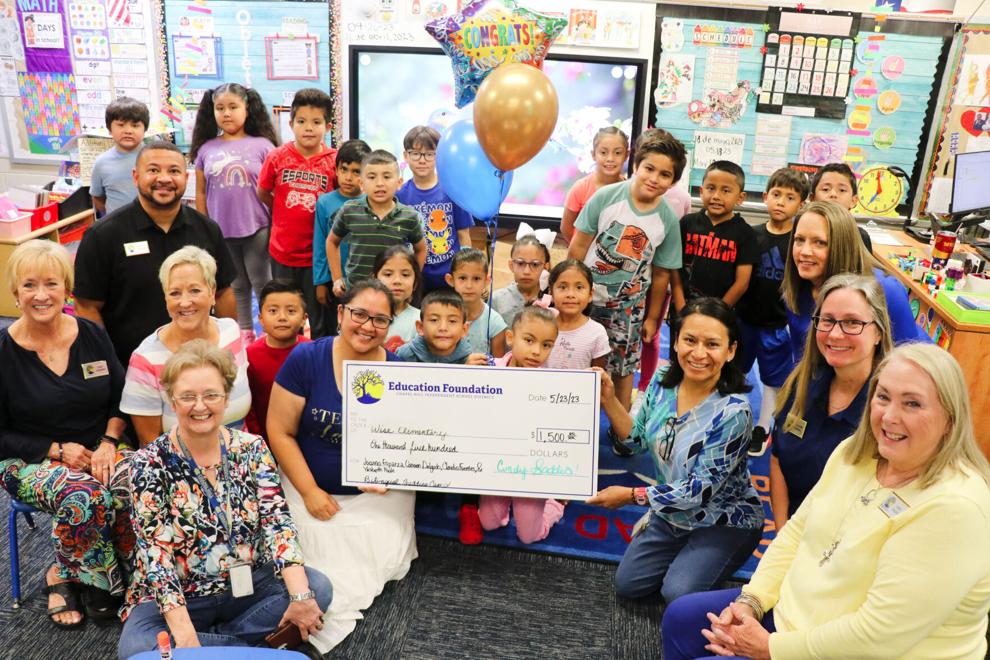 The Teaching Innovative Grants program, administered by the CHISD Education Foundation, aims to recognize and support educators who demonstrate a commitment to implementing creative and forward-thinking approaches in the classroom. Through a rigorous selection process, the foundation identified seven exceptional projects that exhibited the potential to make a significant impact on student learning and engagement.
"We are thrilled to provide these grants to our outstanding teachers and staff members who consistently go above and beyond to inspire and educate our students," said Belen Casillas, executive director of the CHISD Education Foundation and communications director for the District. "These grants serve as a testament to their dedication and innovative spirit, and we are excited to see the transformative effects of their projects on our students' educational journey."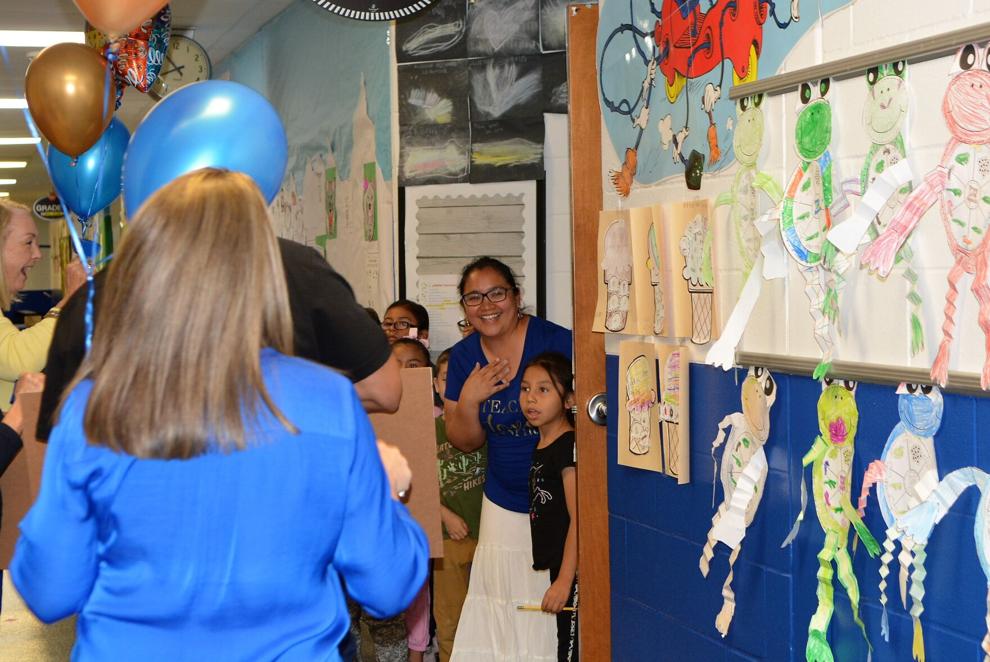 The awarded grants cover a diverse range of subjects and initiatives, reflecting the dedication and expertise of our educators. From science and technology to arts and literacy, each project offers a unique approach to foster student development and academic growth, according to Chapel Hill ISD.
Kate Smith of Chapel Hill High School received $650 for REAL Bulldogs Snack'N Wagon, which will be used to promote holistic child development and academic growth in life skills students. With the objective to provide a nurturing environment where students feel a sense of belonging and well-being, the program also emphasizes innovative teaching and learning by offering real-world experiences that complement academic learning.
This grant will gain employability skills necessary for today's job market, empowering them to succeed in the competitive workforce. These transferable skills, such as organizational, problem-solving, teamwork, communication, self-management, and interpersonal skills, can be learned and practiced in any job setting, including the Snack'N Wagon. By operating the snack cart, students will have the opportunity to apply these skills in a real-world setting, collaborating with Chapel Hill High School staff members. This hands-on experience will further enhance their employability and prepare them for future career endeavors.
Robin Conner of Kissam Intermediate received $912.34 for It's a Novelous Day to Read, a project that will acquire perma-bound novel series, aiming to captivate the students' imagination. A library redesign will take place this summer to showcase these new novels prominently.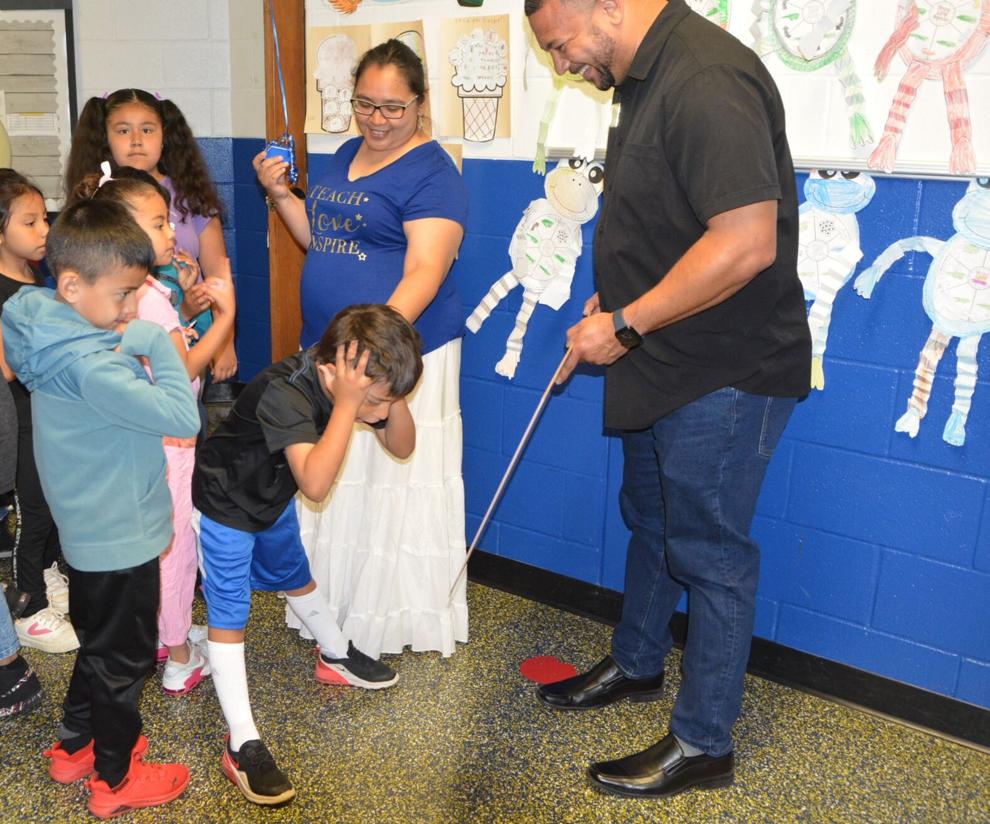 The introduction of the series to the students will be facilitated either by the librarian or their English Language Arts and Reading teacher, who will engage them through book talks. Additionally, during the initial six weeks, teachers will display posters featuring the books they are currently reading outside their classroom doors. This serves to demonstrate to students that adults also engage in reading, and this practice will continue throughout the year.
The objective is to implement DEAR (Drop Everything and Read) at the campus, wherein a specific time each day is dedicated to the entire campus pausing their activities and reading for six minutes.
Research has indicated that incorporating six minutes of daily reading can result in a 60% reduction in stress levels. The primary motivations behind these initiatives include understanding the reasons for picking up a book, completing it and identifying potential recommendations for others.
Rebecca Mahoney of Chapel Hill Junior High received $2,500 for virtual reality (VR) in the classroom. The objective for the VR grant is to enhance student engagement in social studies. By utilizing VR headsets, students will have the opportunity to embark on virtual field trips to various locations and destinations discussed in the classroom.
According to the grant, junior high students rarely have the chance to visit historical landmarks on traditional field trips, as educational excursions are uncommon at this level, except for athletics or band-related activities.
The integration of VR technology will not only expose students to modern-day advancements but also contribute to improved behavior. Introducing technology in the classroom is expected to have a positive impact on standardized testing performance.
As students establish connections between their VR experiences and the content knowledge being tested, their comprehension and retention are likely to improve. The immersive nature of VR will facilitate a deeper understanding of the subject matter, resulting in increased scores on standardized assessments.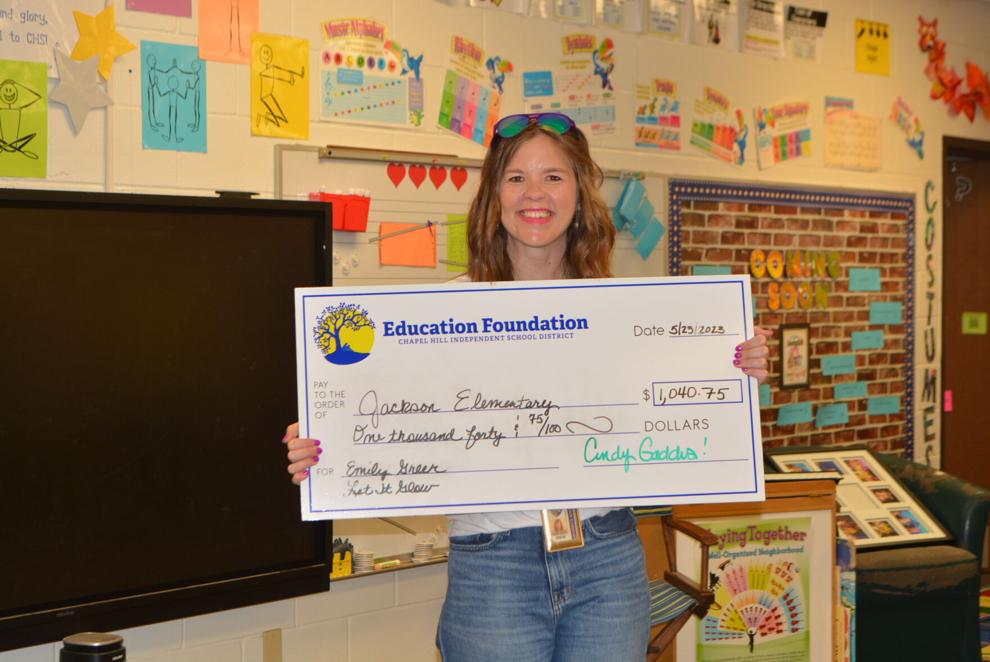 Emily Greer of Jackson Elementary received $1,040.75 for Let It Glow. The grant funds will be used to procure additional resources for the Drums Alive program.
Specifically, 15 more Drums Alive ball sets, a new "Math in Motion" Drums Alive curriculum set, and a set of 25 light-up drumsticks will be purchased. These materials aim to enhance the student experience during the program. As part of the program, students across all grade levels will have the opportunity to use stability balls in the Drums Alive activities.
This usage of stability balls will serve as a behavioral incentive to encourage positive behaviors in the classroom. The availability of the balls acts as a strong motivator for students, fostering increased engagement and positive conduct.
According to the grant description, the inclusion of the math curriculum within the Drums Alive program combines academic achievement with enjoyable activities, allowing students to develop essential mathematical skills in a fun and interactive manner.
To further augment the program's appeal, the purchase of light-up drumsticks will introduce new and captivating elements. These drumsticks will serve as engaging tools for students participating in the program, ensuring their sustained excitement and involvement. The overall aim is to keep students motivated and actively striving to be included in this incentive-based initiative.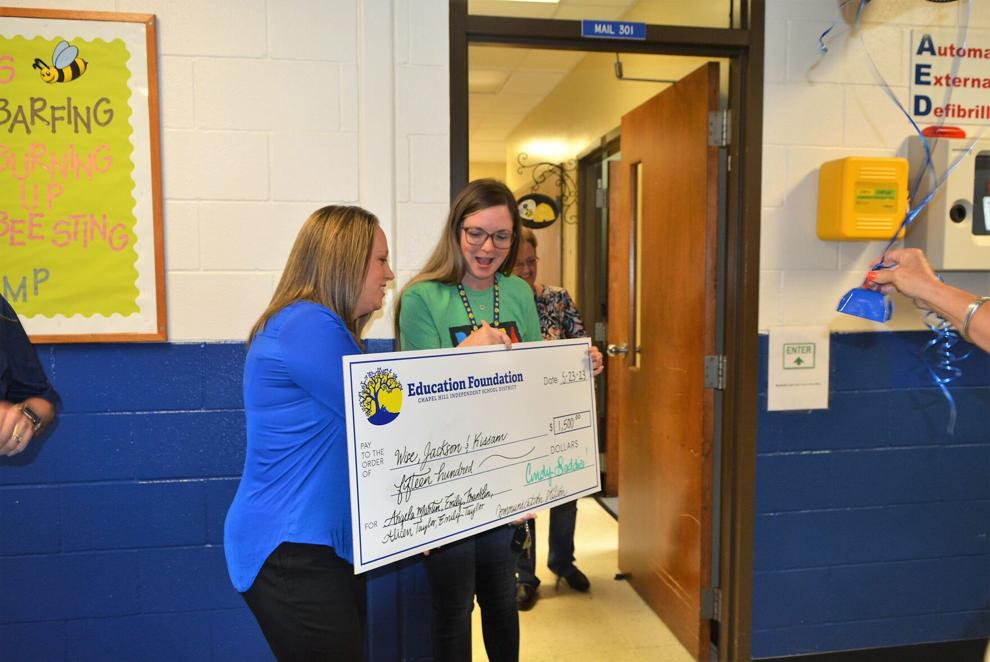 Angela Martin, Emily Franklin, Alicen Taylor and Emily Taylor for Wise, Jackson and Kissam campuses received $1,500 for Communication Station. The grant funds will be allocated towards the construction and installation of communication core board signs, both in playground areas and within common areas across the campus.
Additionally, parents will be provided with core boards for use at home and in other settings with their children. These initiatives are scheduled to be completed by the end of the first semester of the 2023-2024 school year.
The implementation of this program in the Chapel Hill District is a pioneering endeavor, making it one of the first of its kind in the local area, according to the grant description. The introduction of communication core boards aims to enhance communication and inclusivity for students, particularly those with communication difficulties or special needs.
By providing these visual aids in key locations, students will have improved access to a means of effective communication.
Furthermore, extending the use of core boards to parents empowers them to continue supporting their children's communication development beyond the school setting. This initiative recognizes the importance of collaboration between home and school environments, ensuring consistent communication strategies are employed to foster growth and understanding. Overall, the implementation of communication core board signs and the provision of core boards to parents will contribute to establishing a supportive and inclusive learning environment within the Chapel Hill District.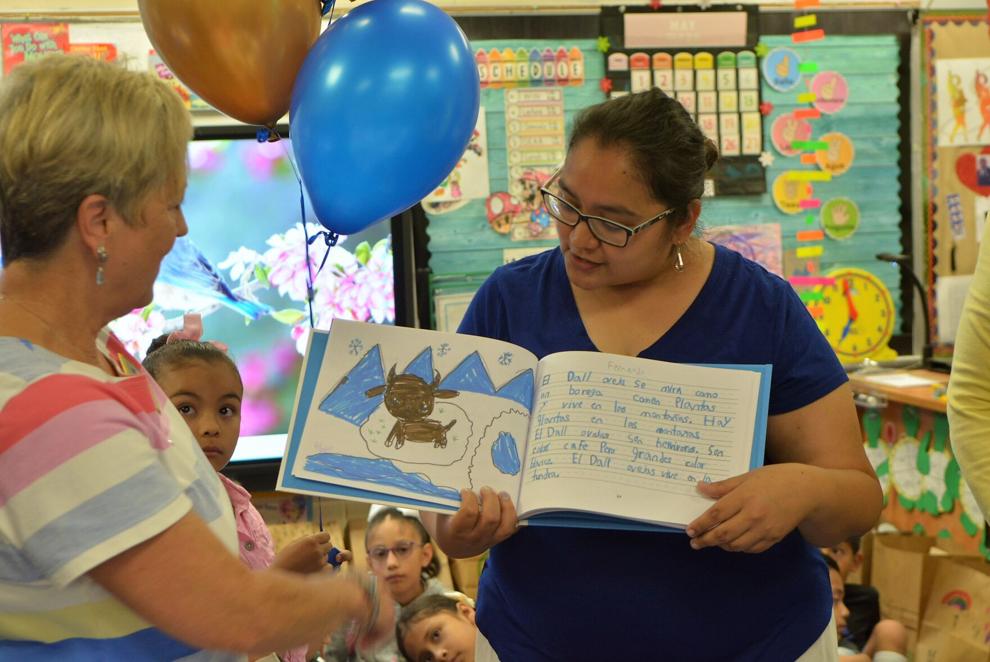 Joanna Esparza, Carmen Delgado, Claudia Fuentes and Yasbeth Poole of Wise Elementary received $1,500 for Bilingual Buddies Camp, where students from different grade levels will engage in reading, researching, writing and publishing a book together. The program fosters language skills, social-emotional development and collaboration among students.
Older students mentor younger ones, while all participants practice 21st-century skills and learn the book-writing process, publishing and marketing.
Natalie Wright of Wise Elementary received $696.98 for Music Room Sound, which will be used to acquire a reliable audio system and headset, enabling the teacher to be closer to students and enhance engagement.
The improved audio quality will reduce distractions and disruptions, while eliminating the need for pauses or microphone charging. This will greatly benefit large classes and create an optimal learning environment.
The CHISD Education Foundation recognizes the importance of fostering innovation and excellence in education. Through initiatives like the Teaching Innovative Grants program, the foundation continues to support educators in their pursuit of providing the best possible learning experiences for our students.
For more information about the CHISD Education Foundation and its programs, please visit chisdeducationfoundation.org.
About the CHISD Education Foundation:
The CHISD Education Foundation is a non-profit organization dedicated to supporting and enhancing educational opportunities within Chapel Hill ISD.
The foundation, which was established in May of 2021, is made up of seven officers and eight board members. The mission for the non-profit organization is to provide grants to teachers. Teachers are asked to create and present an innovative project aligning with the district's curriculum and Texas Education Agency's Essential Knowledge and Skills (TEKS).
The foundation depends solely on volunteers and donations. This Spring the foundation received its exemption from federal income tax under Internal Revenue Code (IRC) Section 501©(3).