(Editor's Note: This appeared as part of our four-part series, Progress 2021 in the Tyler Morning Telegraph)
Work has started at the old King Chevrolet lot in downtown Tyler on 112 high-end apartments which will be a short two blocks west from the downtown square located at 527 W. Erwin.
The Morrison Lofts will feature 56 two-bedroom units and 56 one-bedroom units. Of the 112, 12 will be penthouse units built along North Bonner Ave directly facing the downtown skyline.
The project has been underway since March 15 with a goal to be open in Fall of 2022.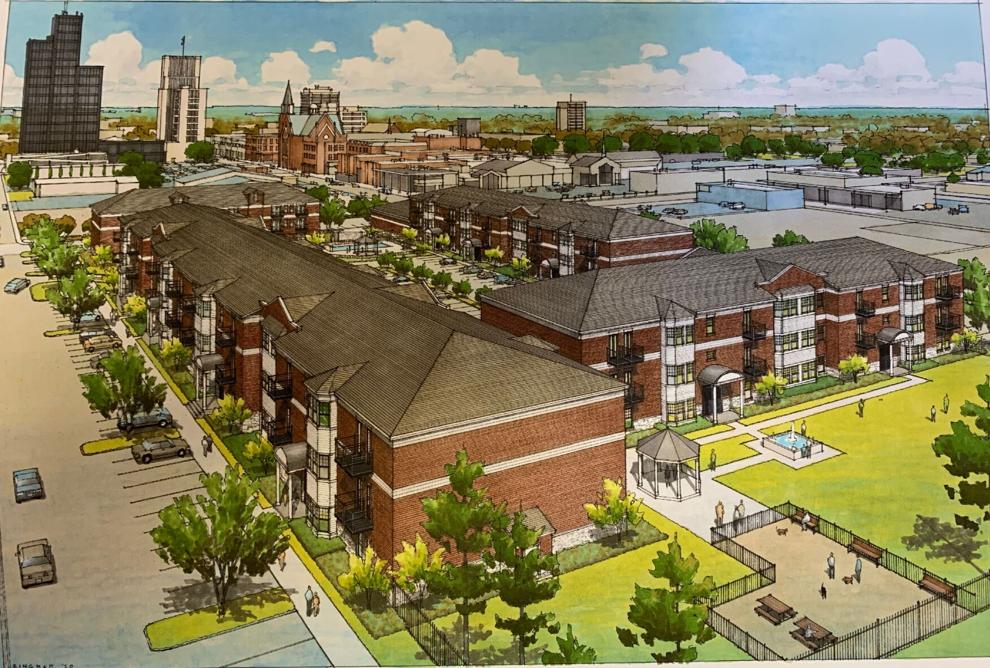 Developer Sam Scarborough, of Scarborough Realty Partners has been active in the downtown community over the past four years and is a board member of the Heart of Tyler. His other most recent developments include the District at Midtown Apartments located at 420 South Fleishel Avenue in Tyler.
As Scarborough talks about the new lofts, he is working in the downtown square with a laptop and a cup of coffee from 1948 Coffee and Juice Company at the Plaza Tower.
"What drew us to this location was that there were so many great things happening downtown already," Scarborough said. "I grew up here in Tyler and moved back four years ago and everybody wanted to live downtown. There are quite a few apartments downtown, but there is always a long waiting list. There is the downtown motto of 'Live, Work, Play, and this is the 'Live.' It gives people the ability to live downtown and grow this historic and exciting area of Tyler."
Scarborough points to the short five minute walk from the new apartments to the exciting vibe of the downtown square that is open from first thing in the morning until a band plays the last song at Rick's on the Square at night.
"The Morrison Lofts have that walkability and authenticity you get with a downtown apartment," he said.
The Morrison Lofts will be gated, feature a swimming pool and a fitness center to list just a few of the amenities. The Morrison also has 4,000 square-feet of retail space available for lease on the southeast corner of the site.
Scarborough purchased the approximately four-acre tract from the City of Tyler in 2017 when city officials said, "We've been waiting for this type of development to increase the number of residential units downtown."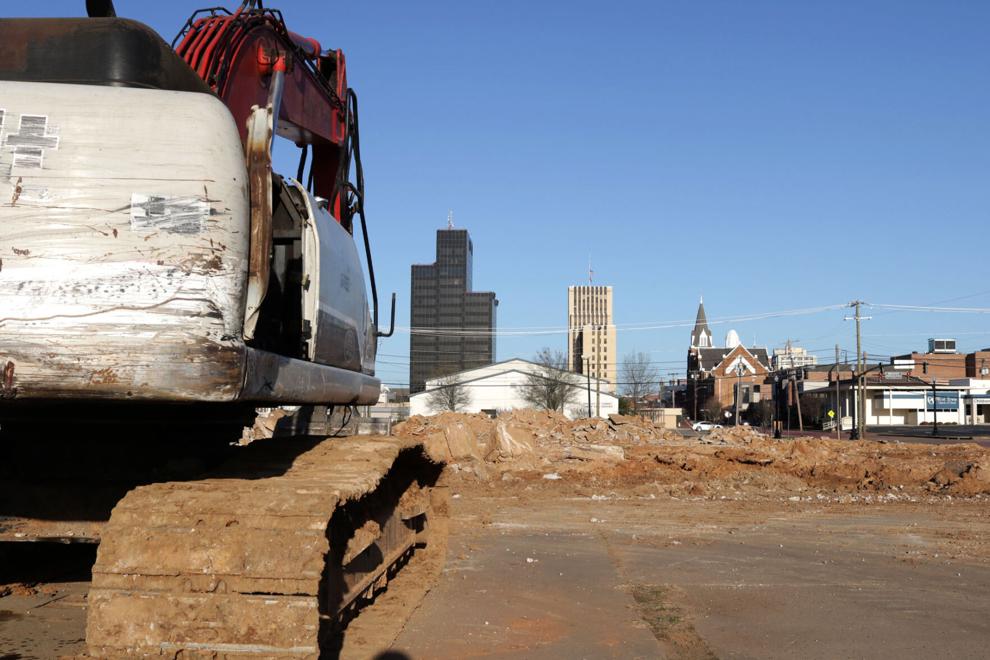 Scarborough keeps his meetings local, as he meets with architects and other construction companies downtown while going over the planning sessions.
The Morrison Lofts will be high-end, but are priced at market rate in order for more people to be able to be a part of what is happening in downtown. He said part of this project is to enhance the downtown experience.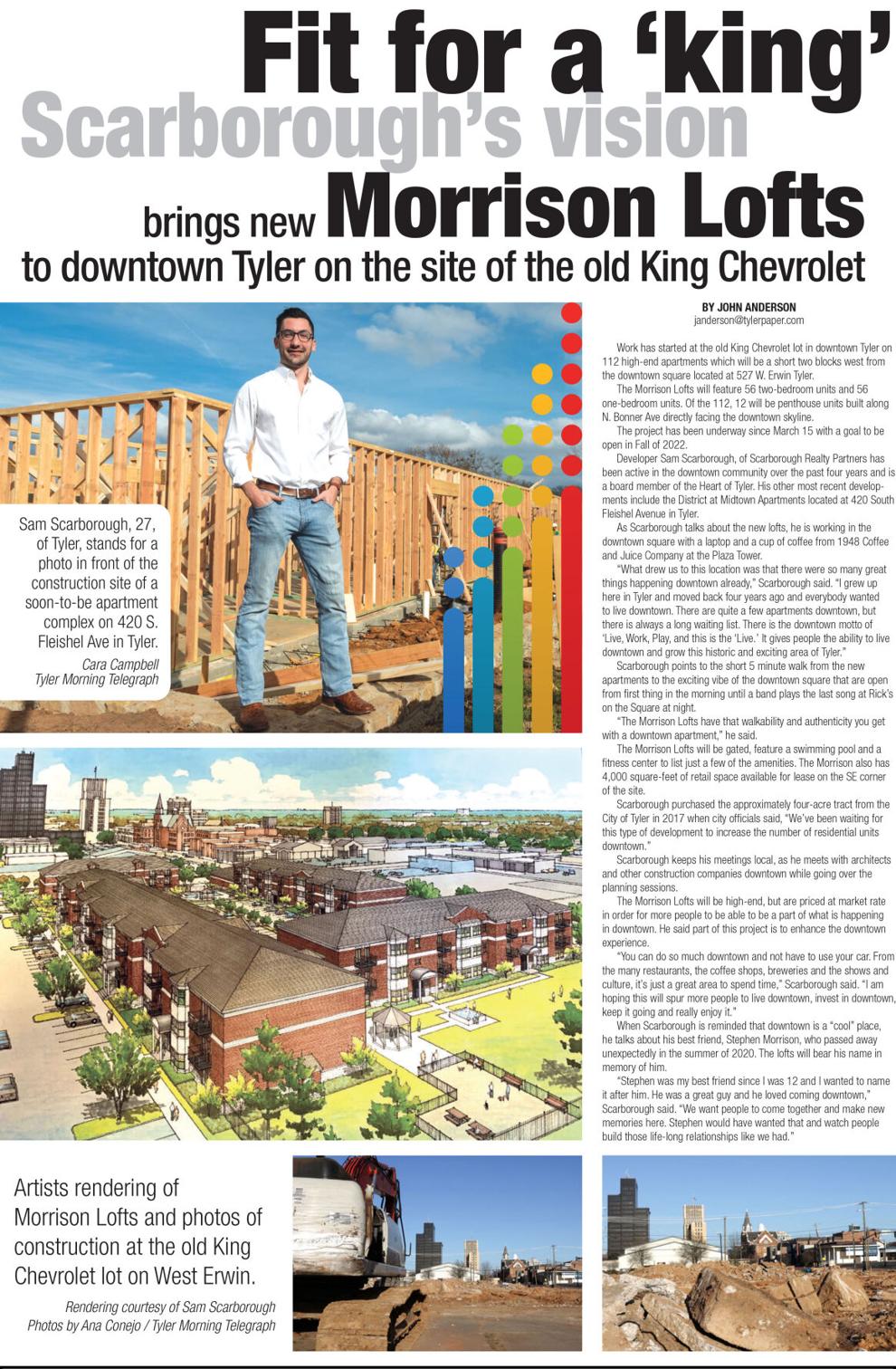 "You can do so much downtown and not have to use your car. From the many restaurants, the coffee shops, breweries and the shows and culture, it's just a great area to spend time," Scarborough said. "I am hoping this will spur more people to live downtown, invest in downtown, keep it going and really enjoy it."
When Scarborough is reminded that downtown is a "cool" place, he talks about his best friend, Stephen Morrison, who passed away unexpectedly in the summer of 2020. The lofts will bear his name in memory of him.
"Stephen was my best friend since I was 12 and I wanted to name it after him. He was a great guy and he loved coming downtown," Scarborough said. "We want people to come together and make new memories here. Stephen would have wanted that and watch people build those life-long relationships like we had."