It is hard to imagine that Don Edmonds didn't grow up dreaming of becoming an artist.
On this day he is standing beside a table covered with gourds he has painted in bold Southwest and Native American motifs. Several of his watercolor paintings are displayed on a wall.
Evidence of his talent is everywhere.
"I had no interest in art," Edmonds said of his time growing up in the little West Texas town of Quanah.
In fact, art might have been one of the last things on his mind.
Edmonds was much more interested public administration. After earning a degree in government at what is now the University of North Texas, he spent about a decade tackling the challenges of being a city manager at several West Texas cities.
In 1970, Edmonds and his wife, Bonny, moved across the state when he took the job as executive director of the East Texas Council of Governments in Kilgore.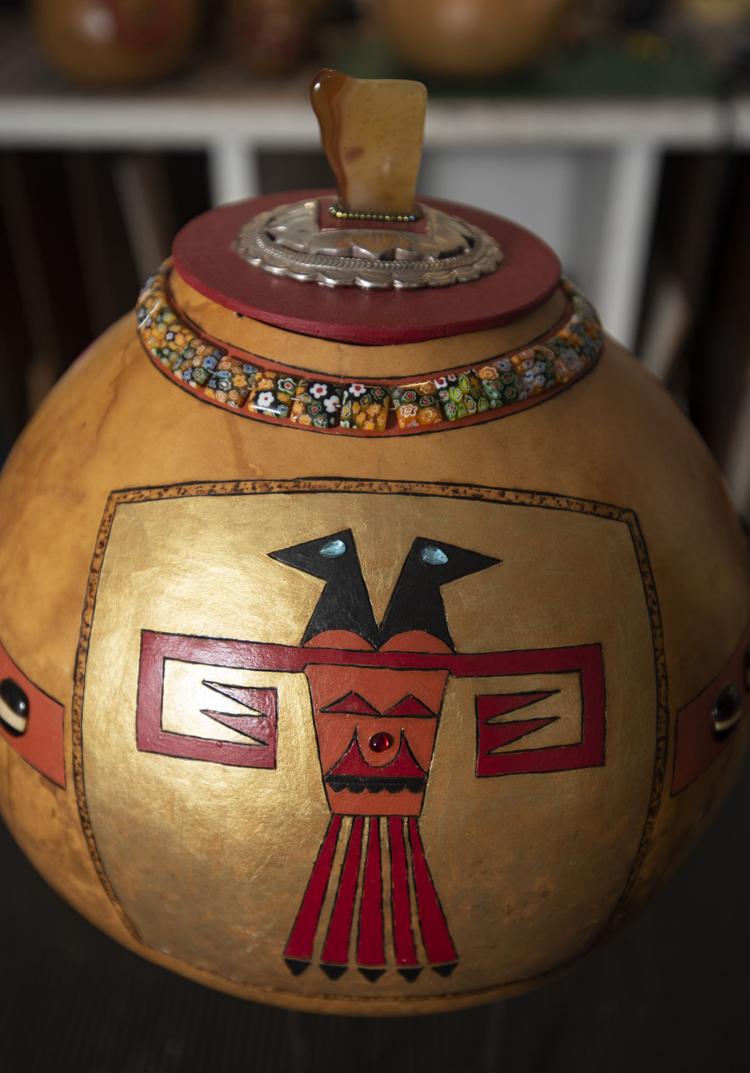 A few years later he took a drawing class and slowly began taking up painting using watercolors and working with pen and ink.
"I really (at first) started concentrated on watercolors. It was a learning process. I did a lot of things that I tossed in the trash."
It wasn't until a decade later that he began to take art more seriously. His interest in exploring the creative side of his soul came at the time he was thinking about what he wanted to do with the rest of his life.
With their daughters, Amy and Cassie, grown and out of the house, the Edmondses decided it was time to get away — as it turned out very far away. They moved to the Mexican town of San Miguel de Allende.
Edmonds calls it his self-imposed sabbatical. He says the idea was to there about year to unwind and relax. They ended up staying five.
He was inspired by the art and artists that were now all around him.
"San Miguel is famous as an art city," Edmonds said. "It is like our version (in the United States) of Santa Fe, New Mexico."
Named a World Heritage Site by the United Nations, the city's attractive and cosmopolitan appearance makes it a favorite destinations for art enthusiasts who come to admire the cobbled streets, colonial architecture and a large market where craftsmen sell their art.
He first fell in love with gourd art during a trip to Peru in 2002.
"I was fascinated by the artwork the Peruvian women were," he said.
Artisans in Peru have been painting and carving on gourds for at least 4,000 years, dating back to the indigenous peoples who originally settled on the country's high plains.
Pieces recovered from centuries ago and now on display in museums, include intricate designs made from tens of thousands of impossibly tiny marks.
"I was seeing these outstanding works and thinking 'Here's the thing for me.'"
After moving back to East Texas, he took up gourd art in earnest.
Edmonds uses high-speed rotary tools, tiny sharp blades and practices pyrography, the art of using wood-burning tools, to create patterns on gourds.
"As I go to work on a gourd, it kind of creates itself," he said of the creative process. "I go through different phases of interest."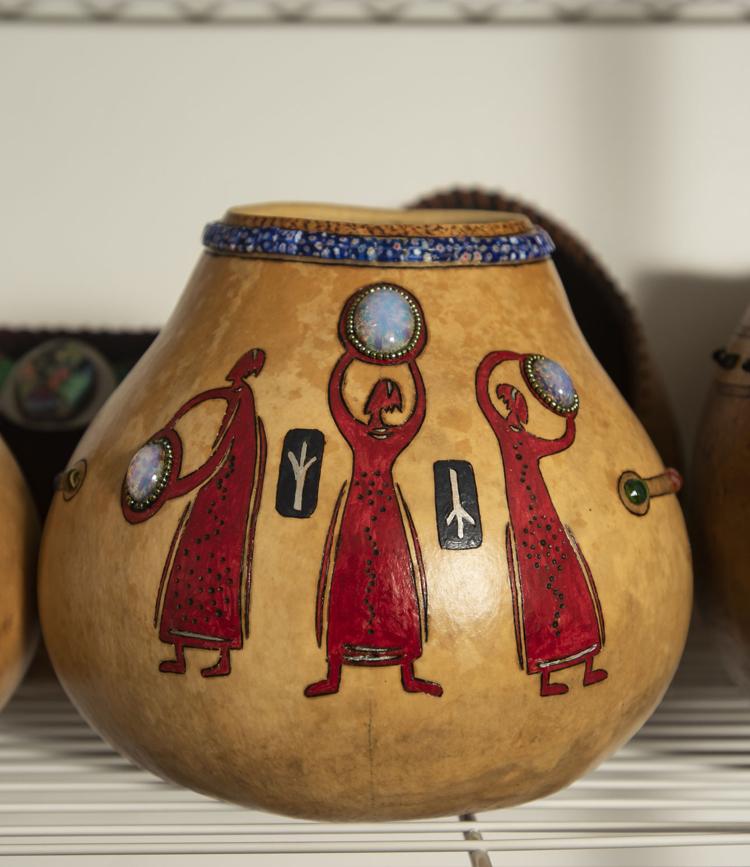 When Edmonds goes on travels throughout the world, he looks for "things that catch my eye." These small objects, including iridescent stones and feathers, often end up as embellishment on his gourd art.
For hours at a time, Edmonds escapes to his second-floor studio to make art.
"The possibilities are endless. I've never made the same piece twice."
Edmonds takes commissions and sells his pieces online and at art shows. On the bottom of each piece he glues an Indian head nickel with the image Comanche Chief Quanah Parker on it. Don says it's his way of paying homage to growing up in Quanah, Texas.