Some regard salad as almost an afterthought, a puny starter dish or side that plays the role of an extra in a blockbuster movie. Worse still, salad has traditionally been considered a diet food, something you eat when you are depriving yourself and can't eat "real food."
It doesn't have to be this way, however, and some of the best professional and home chefs make salads their signature dish.
Part of the magic is keeping your salad interesting with a variety of ingredients that make each bite novel so you don't grow tired after a few mouthfuls. Mix crisp, cold raw vegetables with warm cooked vegetables, use a variety of nuts and seeds, expand your use of greens beyond romaine and other stand-by leafy lettuce, add beans of different shapes, colors and sizes, and on and on.
With a little creativity, flavorful ingredients and texture, you can create a fabulous salad to satisfy and delight everyone who gathers around your table. Made properly, salads taste so amazing that you'll forget how healthy they can be.
Many salads are even better the next day and are perfectly portable for lunch on the go. The following recipes will get you started on your journey.
 Combining bright green vegetables with orange, red and purple vegetables makes a beautifully delicious and antioxidant packed meal.
The following salad is tossed with a creamy sweet and sour dressing and crunchy vegetables that stimulate your taste buds with every bite.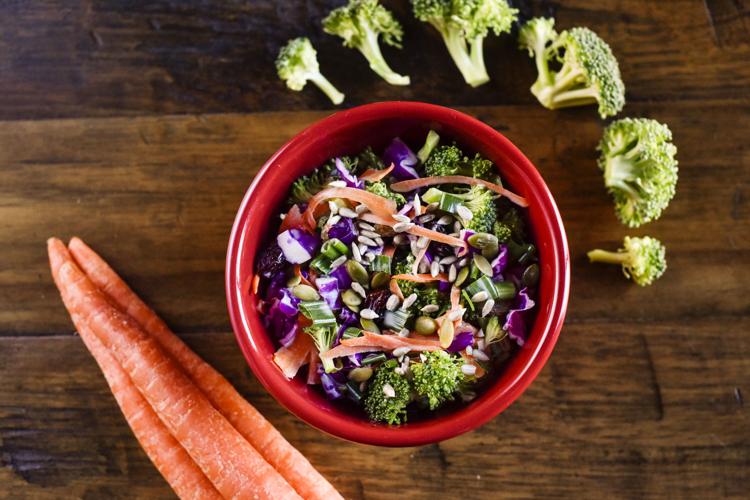 2 medium broccoli crowns with stalks
½ cup grated carrots
½ cup golden raisins
2-3 green onions, thinly sliced
½ cup shredded purple or red cabbage
¼ cup unsweetened, dried cranberries
¼ cup rice vinegar
3 Tbsps. mayonnaise
ground black pepper to taste

chopped mixed nuts and/or seeds (sesame, pumpkin, sunflower, etc.) optional
 Cut the broccoli crowns into bite-size florets. Peel the broccoli stalks and cut them into bite sized pieces. Transfer to a large salad bowl and add the carrots, raisins, green onions, and cranberries. Toss gently.
In a separate small bowl, combine the vinegar, mayonnaise and pepper. Pour the mixture over the broccoli and toss until evenly coated. Let stand 20-30 minutes prior to serving to allow flavors to blend. Top with nuts and/or seeds if desired.
 Adapted from The Cancer Survivor's Guide by Dr. Neal Barnard
There's something so appealing about combining spinach and citrus and then tossing in some chopped nuts for crunch. The deep purple color of the onion and the rich red hue of the radicchio transform this salad into an elegant dish.
Spinach Salad with Orange Sesame Peanut Dressing
1 10-oz. bag spinach, chopped

¼ cup purple onion, thinly sliced

¼ cup mushrooms, thinly sliced

1 cup radicchio leaves

1 orange or grapefruit peeled and cut into small pieces

2 Tbsps. chopped pecans

2 Tbsps. orange juice

1 Tbsp. creamy peanut butter (with no added oil or sugar)

1 Tbsp. balsamic vinegar

2 Tbsps. raw sesame seeds
Add the spinach, onion, mushroom, radicchio, orange/grapefruit and pecans to a large salad bowl. In a small separate bowl, combine the orange juice, peanut butter and vinegar. Whisk the dressing ingredients until mixed well. Just before serving, toss the salad with the dressing. Toast the sesame seed for 1-2 minutes in a skillet over medium heat, using care not to let them burn. Sprinkle the seeds over the salad and serve.
Warm salads are a nice treat and no less healthy than those served cold. The nutmeg and lemon are a surprising combination which makes this simple to prepare salad seem exotic.
 

Pan-Fried Giant White Beans with Kale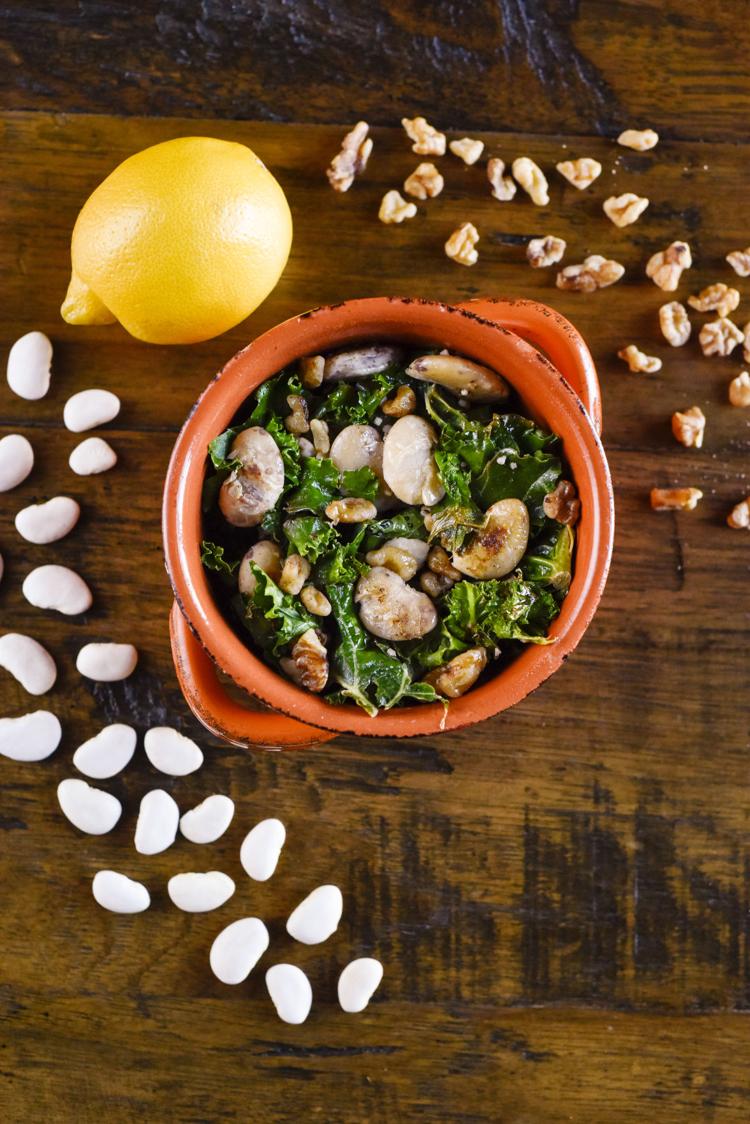 ½ bunch kale (curly, lacinato, etc) stems chopped with stems removed

1 Tbsp olive oil

1 cup cooked large lima beans

1/3 cup walnuts, chopped

1 clove minced garlic

1/8 tsp. ground nutmeg

1 Tbsp. fresh lemon juice

zest of 1 lemon
Wash the kale and shake off as much water as possible, then chop the kale. Heat the olive oil in a wide skillet and add the beans in a single layer. Stir to coat the beans and let them heat up long enough to brown lightly on each side; the beans should be crunchy on the outside. Add the kale to the pan and cook for just under a minute. Stir in the walnuts and garlic, then stir in the nutmeg. Next, stir in the lemon juice and zest. Remove from heat and serve.
Some salads basically scream to be put in a pita, much like this one. It's also fabulous wrapped in bib lettuce of over mixed greens. Drizzle on some tahini (sesame paste) as a dressing and you just might eat the entire salad yourself!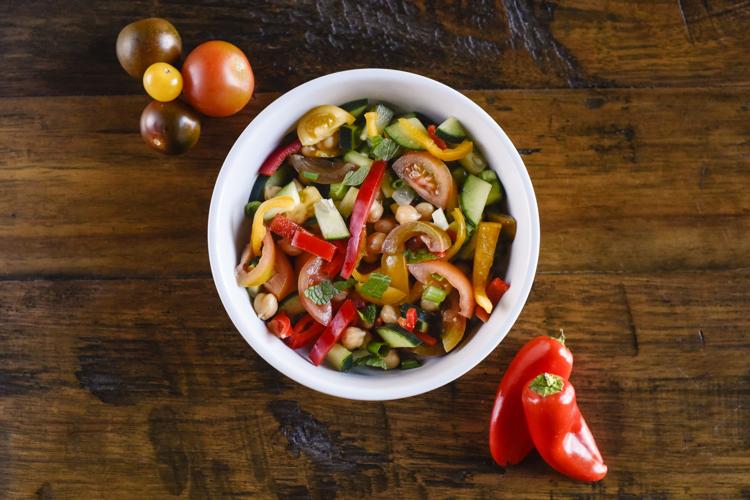 3 cups cooked garbanzo beans (2 cans, drained and rinsed)

1 red bell pepper, diced

1 yellow bell pepper, diced

1 cup tomatoes, chopped

1 cup cucumber, chopped

5 scallions, sliced on the diagonal

½ cup to 1 cup fresh mint, chopped

½ cup to 1 cup Italian parsley, chopped

1 garlic clove, minced

2 Tbsps. olive oil

zest of one lemon

¼ cup lemon juice

¼-½ tsp. cayenne
Place all ingredients in a big bowl. Toss well and taste, adjusting lemon, and spice level. Serve with salad greens or in a pita with tahini sauce.