Summer is a time to explore the great outdoors, hit the open road and spend more time in your backyard. While planning your adventures, don't forget your furry friends who come along for the fun.
Pets love playing and exploring so make sure that they are healthy and safe while doing so.
Here are some products and tips to help you do just that.
Taking a dog, especially if it is a water-loving breed such as a lab, on a boat can be great fun. It is easy to make sure your pet stays safe if you do some preliminary training and take a few precautions.
"All dogs joining you for a boating trip need to know how to swim and paddle (while) wearing a dog life jacket," says pet safety expert Arden Moore, founder of Pet First Aid 4U. 
He says it is important to teach your dog basic overboard maneuvers before getting on the open water. 
"Practice training your dog to come to a designated spot near the boat and use a ladder (to climb aboard) or accept being rescued using a safety net," Moore says. "Show them the right spots to enter/exit and take your time training them. Don't rush your pet or become impatient while teaching these potentially life-saving skills, it will pay big dividends if your pet gets into trouble."
Moore cautions to not let a dog run loose on a boat, especially if it is moving at high speed and to always keep a dog in a life jacket when it is on a boat, watercraft, surfboard or paddleboard.
A life jacket will keep a dog afloat if it falls into the water or is injured. The vest should be well made, the right size and comfortable for the dog to wear.
If your dog loves to swim, make sure it is taking breaks and resting periodically in a shady area. If you take your dog to a public beach, know the restrictions and rules of the beach and make sure the water is not too rough.
When hiking or exploring the outdoors with your dog, use good judgment. Always protect yourself and your pet from the burning rays of the sun.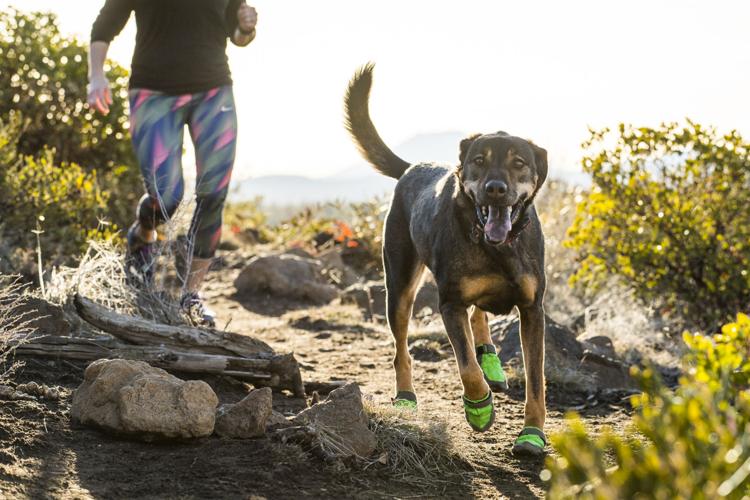 "There are dog-specific sunscreens that should be used when going outdoors this summer," says Veterinarian Dr. Deborah Mandell. "Places (on a dog's body) that have less or no fur are at risk — the nose, muzzle, ear tips and belly — should have sunscreen applied. Make sure it is dog approved sunscreen so you know it is safe for dogs. Never use sunscreen that has zinc oxide or PABA as these are toxic to dogs if ingested."
And don't forget that your dog's paws and pads can be injured.
"Always check their paws after a trip to the beach or pool for any burns or stuck objects (shells or gravel)," Dr. Mandell warns.
Several companies make booties and covers that protect a dog's sensitive paws.
If you spend a lot of time outdoors with your dog, consider putting your dog in a Raptor Shield vest.
Large birds of prey and wild animals sometimes attack dogs that enter their wooded environment. The Raptor Shield is made of polycarbonate, the material used in bullet-proof windows. The vest makes it impossible for a raptor's talons or an animals claws to penetrate the shield and harm your dog.
If crisscrossing the country in your RV or SUV is your idea of fun, the following items can make the trip more pleasant when your pet is along for the ride.
Some pets love to travel, others not so much. If you have a reluctant traveler, try using Rescue Remedy before you hit the road. The safe botanically based formula helps ease your pet's travel anxieties.
A good travel bowl is a pet owner's best friend during long trips. Look for one that comes with a tight lid that makes it spill-proof. For shorter trips, use a convenient collapsible pet bowl.
If you don't want dog hair everywhere, consider buying seat covers that easily can be removed and cleaned. These covers make it easier to keep the mess from dog hair under control.
It also is important to be able to keep up with Fido when he wanders away during stops for going to the bathroom or taking walks.
The Whistle 3, fastens snugly to a dog's collar and comes with built-in GPS locator that helps you track your furry pal. It also keeps track of how many calories your dog is burning and the amount of time it spends being active or at rest. 
If your idea of leisure is spending time in your backyard with your dog, there are new products that can make your time with Fido even more enjoyable.
GoDogGo, an automatic ball launcher, was created by a family who had a ball-crazy dog that loved to play all the time. It can be used indoors or outside and with or without the pet owner present.
It launches balls of different sizes and can be programmed remotely to launch the balls at different times and distances.
Whether you go on an adventure or stay home, include your dog.