Nutrition expert Tecora Smith's children are all grown up, but she well remembers the headaches and heartaches of raising them.
It took every last cent and years of sacrifice to keep food on the table and shoes on their feet.
And there were countless nights she could not sleep for worrying and wondering how to do it all — care for her children, complete her education and build a secure future.
But Smith persevered and eventually earned her credentials in nutrition, opting later to devote her work life to the Northeast Texas Public Health District, 815 N. Broadway Ave., where she oversees the WIC (Women, Infants and Children) program.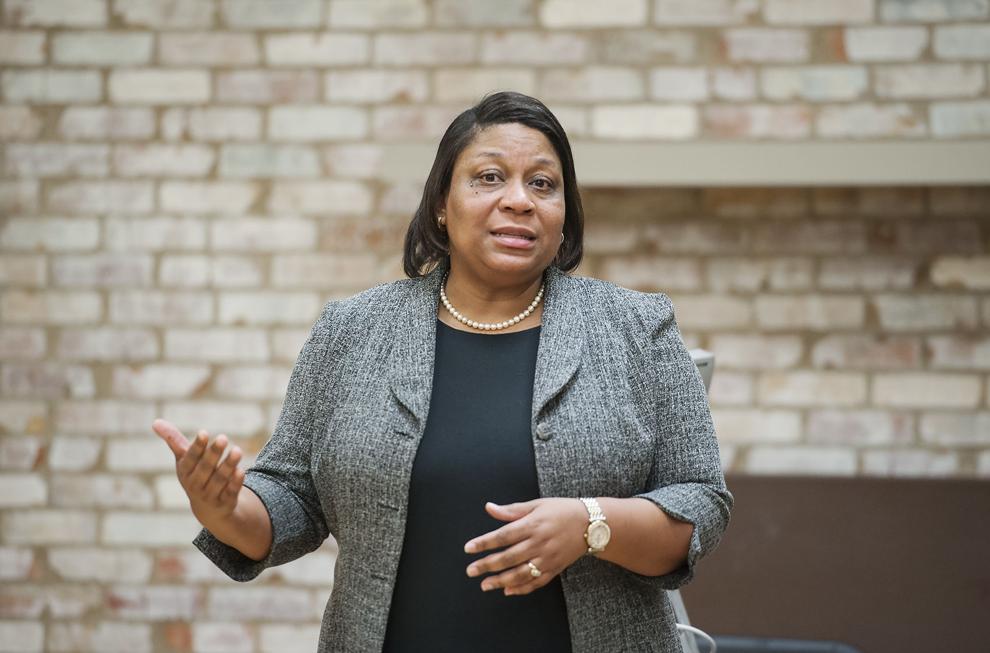 "I struggled," she said. "Maybe that's why I'm so passionate about making sure WIC moms receive excellent customer service. I truly care about our moms and I believe it's because I was a WIC mom, too."
Though her children are grown, she's still losing sleep — from continually thinking and brainstorming about ways to tackle a growing problem throughout the region: keeping food on the table.
SERVICES ON THE GO
The federally funded WIC program that Smith is so passionate about provides funding to states to help low-income expectant postpartum mothers, infants and children up to the age of 5 who are nutritionally at risk.
The program offers breastfeeding support, wellness education and supplemental food, such as formula and baby food for little ones and healthy staples, such as cheese, whole wheat bread and milk for mom.
In Tyler, a small farmers market is offered outside the WIC offices, allowing eligible families to redeem vouchers for fresh fruits and vegetables.
Although the program traditionally serves mothers and children, increasingly single dads, grandparents and caregivers are the ones seeking food assistance.
Roughly 25,000 people annually across 20 counties receive WIC services and efforts are underway to expand.
If all goes according to plan, the agency is expected to go mobile with some services, thanks to a donated coach bus from Carter BloodCare, 815 S. Baxter Ave.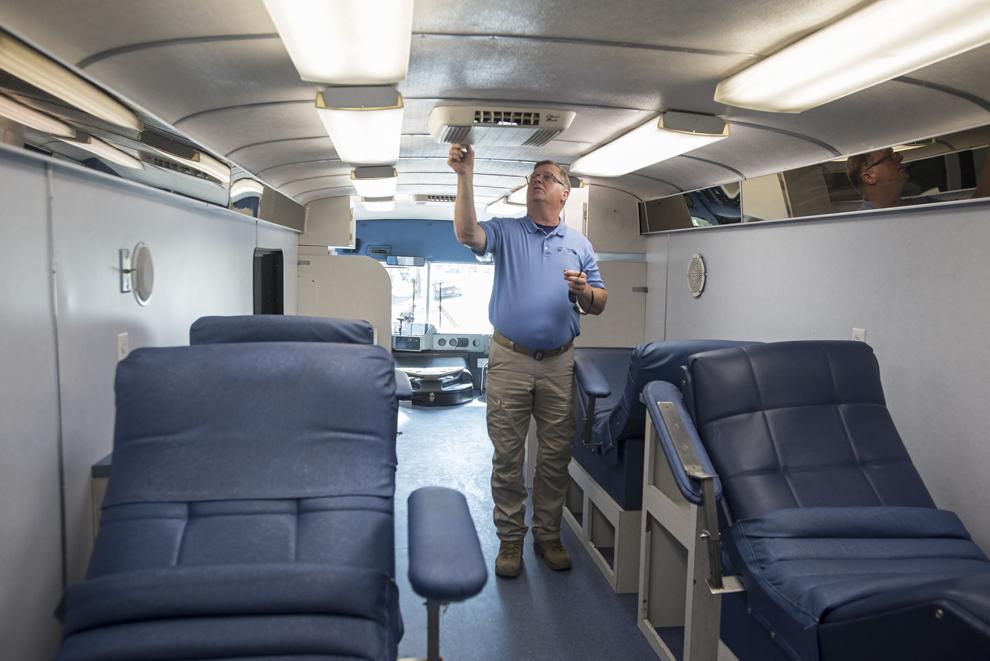 The oversized bus should help connect families in rural areas with many NET Health services, including WIC.
Carter BloodCare's B.J. Smith, vice president of regional operations and business development, said it just makes sense to share resources and help build strong communities.
"It's a win-win," he said. "We're giving back to the communities that support us."
He said it's not the first time Carter BloodCare has given away a retiring bus to a worthy cause — one recent donation is heading to Nigeria for blood care, another went to Mexico for mammograms.
But this one is staying in East Texas to continue saving lives, which is the ultimate mission of the Carter BloodCare organization, he said.
It could be several more months before the bus is ready for business, said George Roberts, NET Health Chief Executive Officer.
"We're so grateful to Carter (BloodCare)," Roberts said. "We've been trying over the last several years to seek new, creative ways to serve the community."
The unit is expected to support WIC operations, plus other NET Health services that range from diabetes care and outreach education to immunizations.
Roberts said the agency is applying for grants in hopes of raising the $100,000 he believes will be necessary to overhaul the bus, add new equipment and train people to drive it.
"We're really excited to get it," he said. "We hope to have it on the road by this fall."
STUDY: LOW INCOME, POOR NUTRITION, SICK BABIES
It might be surprising to some to learn many of the region's tiniest residents are, quite literally, starving.
A whopping 28.9 percent of children under 18 don't get enough to eat, according to a 2016 Health Status of Northeast Texas that examined the growing problem of food insecurity experienced by an estimated 1.5 million people in the 35-country study area.
That's higher than the rest of Texas, at 27.4 percent, and also the United States, at 21.4 percent.
Income levels appear to play a role in the numbers, according to data compiled by the University of Texas System in partnership with UT Health Northeast, now part of the UT Health East Texas.
Median annual household incomes in the Northeast Texas region range between $29,000 and $52,000, compared to levels of $52,576 for other Texans and $53,482 for the rest of the nation.
The 2018 federal poverty level was $12,140 for a single person household and about twice that for a family of four, according to the Department of Health and Human Services, which uses the data to determine eligibility of certain government programs.
About 18.7 percent of Northeast Texans are living below the poverty level, although just 4.6 percent report to be unemployed.
Of those working full time throughout the year, about 4.9 still live below the federal poverty level, while about 1.7 percent receive public assistance and another 15 percent use food stamps.
Smith, the WIC director, is holding out hope the new bus can help make a dent in the growing trend of food insecurity in outlying areas.
"We see hunger firsthand in our communities," Smith said. "WIC plays a major role in not just fighting hunger, but malnutrition."
'THE DATA IS SCARY'
Difficulties in accessing food is just part of the equation in the regional health report, data shows.
There are soaring instances of heart disease, cancer, stroke and chronic lower respiratory diseases in the area, as well as higher than normal rates of tobacco use, suicide and unintentional injuries.
Especially troubling for many — Smith County is listed as having the highest rate of infant morality of all 254 counties in Texas and is the only place in the state that's not seen a decrease in its death rate since 2005, records show.
Some expectant mothers do not have access to quality nutrition and prenatal care.
Many lack transportation, insurance and an awareness of how to make healthy lifestyle choices, such as avoiding tobacco that is said to contribute to lower birth weights and sleep-related deaths.
"Place matters," said David L. Lakey, M.D., who previously served as Texas Commissioner of Health and is also a vice chancellor at The University of Texas System and senior advisor for The University of Texas Health Science Center at Tyler.
"The chances of a baby dying in the first year of life are higher in some areas than others … you can compare the numbers according to ZIP code, side by side."
As an example, in Tyler's 75701 ZIP code the infant mortality rate across all races as 8.18 per 1,000 births.
Comparing the figures according to race in the same ZIP code, the infant mortality rate among black women is highest — about 15.91 out of every 1,000 births; followed by Hispanic women, 8.13; and white women, 4.68.
Those recent mortality rates differ from numbers cited in the Health Status Report, which examined infant death rates between 2011-2013 — at that time, there were 6.3 infant deaths per 1,000 live births among all races, compared to 5.8 in other parts of the state.
The leading causes of babies dying within the first 28 days of life are congenital abnormalities and extreme prematurity; for those 28 days and older: it's Sudden Infant Death Syndrome or SIDS, according to the health study.
"The data is scary," Smith said. "When someone told me what the infant mortality rate was … we are afraid for them (moms and babies). We have to do something."
HITTING THE ROAD
With those types of statistics, it's simply not enough to sit in the office and conduct business as usual, assuming that clients will show up to take advantage of the services, Smith said.
"We noticed there is a barrier to accessing services … the barrier is transportation. If they have to choose between buying food and paying for a ride, which do you think they choose? We have to change our model and hit the street … hopefully we can help turn things around."
Aside from nutrition, NET Health already provides a wealth of other types of healthy living programming, including the new the CommUNITY Cares project to help uninsured clients connect to health services through partnerships with physicians and specialty providers.
Since its inception in January, 520 people have signed up, officials said.
Community Health Worker Enedina Felix said timely referrals make a big difference, citing a recent case in which a woman needed immediate medical attention.
"She needed a clinical breast exam," Felix said. "She was calling hospitals to set up an appointment for a mammogram. She was showing symptoms (of breast cancer), but didn't have money to see a doctor."
The woman was directed to a participating provider, who assisted her with securing an exam and aftercare for her condition.
NET Health officials predict continued, sustained community outreach — both at brick-and-mortar locations and traveling clinics — could eventually be a game changer in helping Northeast Texans lead longer, healthier lives.
"This (outreach) could possibly change a generation, but it starts with us changing our community," Smith said.
To learn more about WIC and other NET Health services, call 903-535-0030 or visit https://www.mynethealth.org
TWITTER: @TMT_Jacque