In a special service at Higher Dimensions Church that featured songs, praise team performances, Scripture readings and encouraging words from ministers, a teen who spoke for two minutes arguably made the most impact. 
On Nov. 16 of last year, Da'Tavion Roberts, 14, was riding a school bus headed to Robert E. Lee High School when he began to have a seizure. An ambulance was called and once he arrived at the hospital he had an MRI.
Results showed Da'Tavion had a mass on his brain. He, along with his mother, Shemekia Hill, of Tyler, were transported by ambulance to Cook Children's Medical Center in Fort Worth.
After days in the intensive care unit, on Nov. 21, Da'Tavion was diagnosed with Stage 4 Hodgkin lymphoma.
"When they said I had a type of cancer, I freaked out," Da'Tavion told the crowd gathered at the church Saturday for a benefit and celebration held in his honor. "For many reasons I thought I was not going to be here today.
"But, then they said it was curable, and I was happy," he said to applause.
Although Da'Tavion's diagnosis has, at times, been tough to handle for him and those who care for him, those who know him say his positive attitude and faith in God have been inspiring.
While Da'Tavion credits his mother as being a strong source of encouragement, he also leans on his Bible, prayer and pastor, Bishop N.R. McGrew, for encouragement.
"He always tries to do something daily to keep himself uplifted," Hill said. "When you don't have to force them to do it, that's when you know they know who God is by themselves."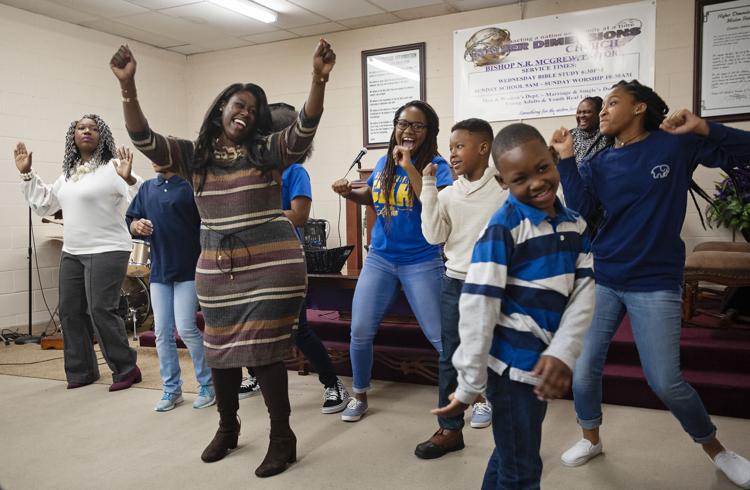 At Saturday's celebration, speakers commended Da'Tavion for his strength and thanked God for the progress that has already taken place.
Surgery was not needed on the tumor on Da'Tavion's brain because it began to shrink after chemotherapy.
"We're going to give God all the honor when this process is over," said Valencia Jones, of Tyler, the event organizer. "We will have a testimony to tell somebody (about) the goodness of the Lord and how he has brought us through."
McGrew said the event also was a celebration of faith. He brought up several recent hardships faced by some of the church members and encouraged them to remain steadfast in their belief in God.
Celebration Benefit Program for Da'Tavion Roberts at Higher Dimensions Church
 A celebration benefit program was held for Da'Tavion Roberts, 14, of Tyler, and his family at Higher Dimensions Church in Tyler on Saturday Jan. 19, 2019. Roberts was diagnosed with stage 4 Hodgkin's lymphoma on Nov. 21. Since receiving the diagnosis his faith and hopeful spirit has encouraged his church and other teens his age to grow deeper in their faith in God. His mother, Shemekia Hill, has been by his side since he was sick and is currently off work to help care for him. He will be completing more cycles of chemotherapy over the next three months, followed by radiation. He looks forward to hearing that he's been cured so that he can back to school. He currently is homebound and has a teacher who visits him so he can complete his work. Roberts wants to one day attend college to study music and art. He has two siblings: T'Ayranie Johnson, 8, and Ty'Keast Johnson, 7.
"The Scripture came to my mind 'I would have fainted had not I believed to see the goodness of the Lord in the land of the living,'" the pastor said, quoting Pslam 27:13. "How can you go through major cancer and radiation and chemo and you come up and greet the people with a welcome and say 'I know God is still able to heal my body?'
"…So when I ain't got nothing else all I have is my faith," he added.
At the end of the celebration, nine young people recommitted or committed their lives to Christ.
The benefit, along with an ongoing online fundraiser, was held to support the family, which also includes Da'Tavion's two younger siblings, T'Ayranie, 8, and Ty'Keast, 7, as Hill has had to stop working to care for her son during his treatment.
For Hill, the whole experience has led her to lean on her faith and friends more than ever.
"When I heard 'Stage 4,' I thought Lord, that means my baby won't even have a chance to live," she said. "I remember Cook's has a chapel. I remember going in that chapel and I just prayed and prayed and I remember leaving a different person.
"I just roll on faith and I just keep myself surrounded with people who are encouraging to me, and I can call on a friend when I need one," she later added.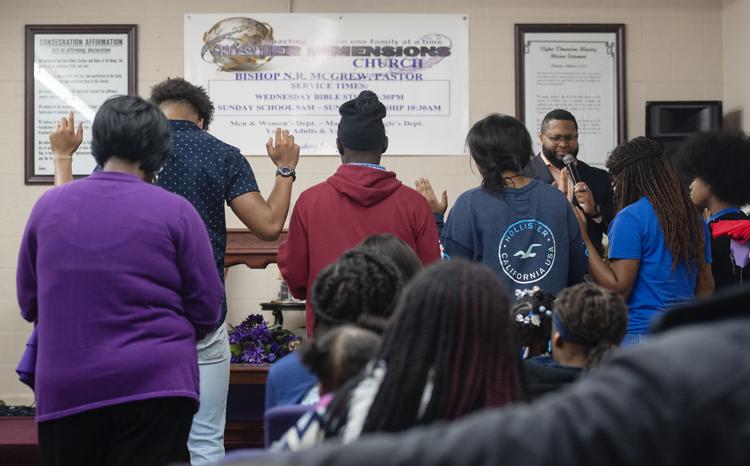 As for Da'Tavion, he's been told he will be doing a couple more rounds of chemotherapy over the next few months. Afterward, he will then receive radiation treatment over the course of about a month.
When he is not in treatment, Da'Tavion is mostly homebound and receives regular visits from a teacher to stay on track with his coursework. 
He can hardly wait for the day he hears he is cancer free.
"As soon as the word comes when they say 'You're cured,' I'm going to run to the nearest school and say 'I'm back at school,'" he said. "It's going to feel so good."
TWITTER: @TMT_Augusta