A three-year project to restore and conserve one of the rarest and most valuable works in the Tyler Museum of Art's Permanent Collection is complete, with the recent return of a pair of 18th century folding screens by Japanese painter Soga Shohaku.
The museum is presenting the newly restored work to the public for the first time in several years with a special exhibition, "Soga Shohaku: A Chinese Landscape," through July 28 in the Education Gallery.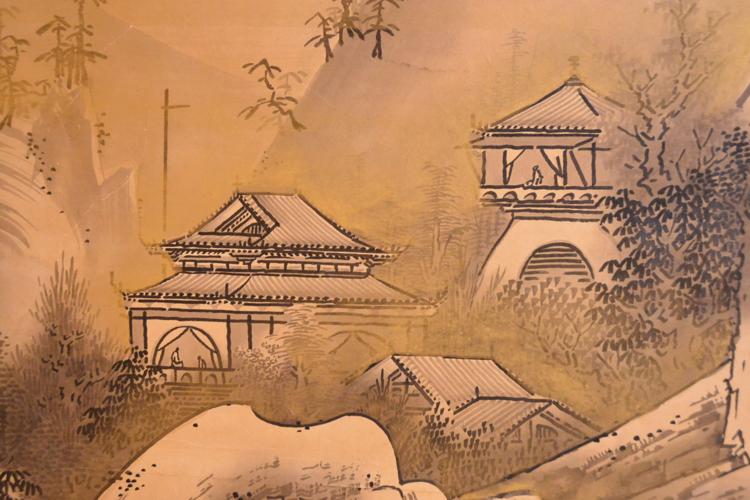 The six-fold ink-on-paper screens, each more than 5 feet high and 11 feet in length when fully expanded, depict a mythical Chinese landscape and collectively are titled Chinese Landscape.
The screens were created in approximately 1770 by Shohaku (1730-1781), a painter of Japan's Edo period who worked primarily in the brush style of the Muromachi period. This distinguished the painter from his contemporaries, as the Muromachi aesthetic was considered outdated more than a century before Shohaku's birth.
Tyler Museum of Art acquired the screens in 2007 as a gift from Julietta Jarvis, an East Texas philanthropist and former mayor of Troup, who was a longtime supporter of the TMA.
The conservation project was conducted at the East Asian Art Studio in Seattle under a team led by Ephraim "Eddie" Jose, a master conservator specializing in restoring and mounting Asian works on paper and fabric.
Jose served from 1990-95 as the chief conservator for Asian prints and paintings at the Honolulu Museum in Hawaii and is founder of the Druk Foundation for Art Preservation and the Thangka Conservation Center in Thimphu, Bhutan.
The screen restoration and exhibition are made possible by support from the Julietta Jarvis Foundation Inc. and support of the Cameron Family.
The museum is located at 1300 S. Mahon Ave. and is open 10 a.m. to 5 p.m. Tuesday to Saturday and 1 to 5 p.m. Sunday. It is supported by its members, Tyler Junior College and the city of Tyler.
Jon Perry is Tyler Museum of Art's communications coordinator.