The Tyler Civic Theatre is bringing the classic "On Golden Pond" to the stage. The story of hope, humor and drama proves that love and the ability to change don't diminish with age.  
Performances are set for 7:30 p.m. Friday, Saturday and April 14 and 2:30 p.m. Sunday at the theater, 400 Rose Park Drive.
The story is set at the summer lake home of elderly Ethel and Norman Thayer. Stubborn norm is grumbling about being almost 80 while Ethel, his perfect balance, is being very sweet and patient.
When their divorced daughter drops of her fiancé's son, Billy Jr., to stay with them, he becomes the grandchild the couple has always hoped for.
During the summer, Norman teaches Billy Jr. some new lessons and Billy Jr. teaches Norman a thing or two about today's youth.
Dan Trent plays Norman. He has performed the role on two other occasions. Norman is one of his favorite characters.
"I get to play a character who's a real curmudgeon who makes life difficult for the rest of his family, but he is truly loved," Trent said. "When Billy Jr. comes in, Norman begins to wake up. ... It's it's like a breath of fresh air. They establish a very quick bond.
Norman's new buddy brings out the youthful spirit in Norman," Trent said. 
Jesse Stamper II says his character, Billy Jr., "is very annoyed he is being dropped off at his basically grandparents house, so he's not really into that."
As an unlikely duo, Billy Jr. and Norman are "both kind of ignorant fools and that kind of gets them to like each other," Stamper said.
As the relationship develops, Billy Jr. learns to be more polite, proper and to enjoy doing activities with Norman.
This is a "heart-wrenching story that it supposed to make you feel warm and fuzzy inside," Stamper said.
The bond between Norman and Billy Jr. "gives you a lot of room for some of that dry humor too," said Lisa Ordmandy, who plays Ethel.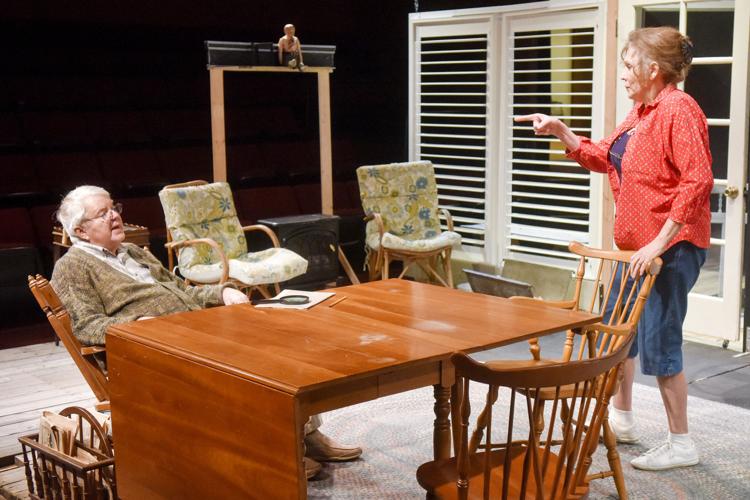 "Ethel is maybe who I would aspire to be, because she's so sweet, kind, and always upbeat despite Norman's pessimism," she said. "She (Ethel) gets fed up with Norman sometimes and you see a little bit of the strain."
Some might see Ethel's kindness as a weakness "but you soon see that she's (Ethel) not as weak as you think," Ordmandy said.
Norman and Ethel are "best friends and wouldn't know how to live without the other," Ordmandy said. "The ultimate story of life is that it does end and coming to that realization and helping each other to get there."
The Tyler-based improvisational comedy troupe Card 53 will make up skits based on suggestions from the audience in a show set for 8 p.m. Thursday at Liberty Hall, 103 E. Erwin St. Tickets are available in advance at libertytyler.com.