"Always Be My Maybe" — Childhood sweethearts reconnect after a falling-out 15 years earlier. With Ali Wong, Randall Park, Keanu Reeves, Daniel Dae Kim, Charlyne Yi. Written by Wong, Park, Michael Golamco. Directed by Nahnatchka Khan. NR.
"Amazing Grace" — Shot during the live recording sessions of Aretha Franklin's soaring 1972 gospel album "Amazing Grace," this long-buried concert documentary once was lost but now is found — gloriously so. NR.
"Avengers: Endgame" — After 11 years and 21 previous films, this opening chapter of the Marvel Cinematic Universe comes to a mighty finish with this thrilling, exhausting and inevitably moving adventure featuring Iron Man, Captain America and all the others we've met along the way. PG-13
"Captain Marvel" — It's not only heroes who can have superpowers, movies can have them too, and you can add this to the small list of those that do thanks to a luminous and powerful Brie Larson, co-stars Samuel L. Jackson, Ben Mendelsohn, Annette Bening and Jude Law, and directors and co-writers Anna Boden and Ryan Fleck. PG-13.
"Cargo" — A fisherman with a gambling problem smuggles Haitians into the U.S. to help support his family. With Warren Brown, Gessica Geneus, Persia White. Written and directed by Kareem Mortimer. NR.
"The Cold Blue" — Documentary on the U.S. 8th Air Force during WWII includes restored raw color footage shot aboard B-17 bombers during combat missions for William Wyler's 1943 film "Memphis Belle: A Story of a Flying Fortress." Directed by Erik Nelson. NR.
"Domino" — A cop in Copenhagen seeks revenge for his partner's murder by a member of ISIS. With Nicolaj Coster-Waldau, Carice van Houten, Guy Pearce. Written by Petter Skavlan. Directed by Brian De Palma. R.
"The Fall of the American Empire" — A deliveryman with a Ph.D. in philosophy finds two large bags of cash at a crime scene. With Maxim Roy, Éric Bruneau, Maripier Morin. Written and directed by Denys Arcand. In French with English subtitles. R.
"Find Me" — A troubled accountant follows clues left in national parks as he searches for a missing friend. With Sara Amini, Kirby Howell-Baptiste. Written and directed by Tom Huang. NR.
"Godzilla: King of the Monsters" — The giant reptile vies with Mothra, Rodan and the three-headed King Ghidorah for world domination. With Kyle Chandler, Vera Farmiga, Millie Bobby Brown, Bradley Whitford, Sally Hawkins, Charles Dance, Thomas Middleditch, Aisha Hinds, David Strathairn, Ken Watanabe, Ziyi Zhang. PG-13.
"Halston" — Documentary on the groundbreaking fashion designer. With Liza Minnelli, Andy Warhol, Iman, Joel Schumacher. Written and directed by Frédéric Tcheng.  NR.
"Loners" — Eccentric misfits are forced into government-mandated group therapy. With David Christian Welborn, Tyson Turrou, Brian Letscher. Written by Neil McGowan. Directed by Eryc Tramonn. NR.
"Ma" — Octavia Spencer stars as a lonely woman who turns the tables on a group of teens looking to party. With Juliette Lewis, Luke Evans, Missi Pyle. Directed by Tate Taylor. R.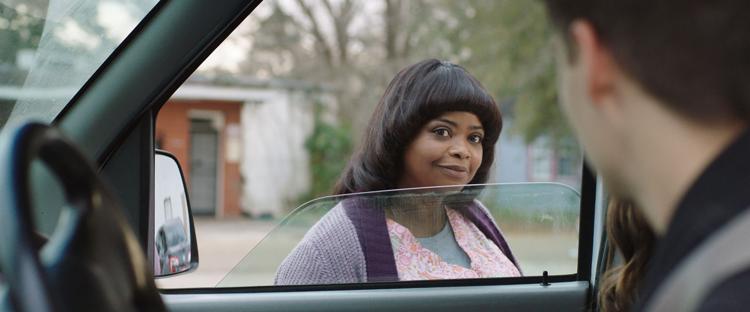 "Mayday Life 3D" — The popular Taiwanese rock group Mayday performs in this concert documentary. Directed by Muh Chen. In Mandarin with English subtitles. NR.
"Non-Fiction" — French writer-director Olivier Assayas' witty and charming romantic comedy, top-lined by an effervescent Juliette Binoche and a cool Guillaume Canet, is an enticing blend of the comic and the serious, a smart and sassy examination of the way we live now. R.
"Pasolini" — Willem Dafoe portrays Pier Paolo Pasolini during the final days of the Italian filmmaker and novelist's life. Written by Maurizio Braucci; based on an idea by Nicola Tranquillino, Abel Ferrara. Directed by Abel Ferrara. In English, French and Italian with English subtitles. NR.
"Photograph" — Writer-director Ritesh Batra's slightly elliptical, understated romance between two lonely souls is a lovely, charming and gently transporting journey that captures the bustling, workaday sides of Mumbai life with vigor and passion. (Gary Goldstein) PG-13.
"The Proposal" — Director and conceptual artist Jill Magid explores the artistic legacy of the Pritzker Prize-winning Mexican architect Luis Barragán. NR.
"Rocketman" — Mild-mannered English piano player Reginald Dwight transforms into rock superstar Elton John in this musical fantasy biopic starring Taron Egerton. With Jamie Bell, Richard Madden, Bryce Dallas Howard. Written by Lee Hall. Directed by Dexter Fletcher. R.
"Us" — A sensational dual performance by Lupita Nyong'o is the centerpiece of Jordan Peele's follow-up to "Get Out," a smart, relentlessly scary horror picture about a family being stalked by murderous doppelgangers. (J.C.) R.
"Yomeddine" — A man who spent most of his life in a leper colony in the Egyptian desert sets out to find his roots. With Rady Gamal, Ahmed Abdelhafiz, Osama Abdallah. Written and directed by A.B. Shawky. In Arabic with English subtitles. NR.