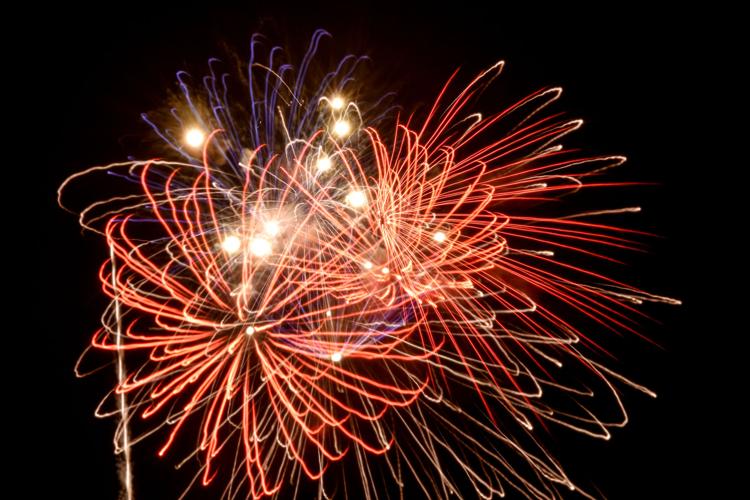 Fireworks, music and patriotic activities are among the ways the Tyler area is celebrating the Fourth of July.
The city of Tyler will host a free celebration beginning at 4 p.m. Thursday in Lindsey Park, 12557 Spur 364 West. It will have a kids play area, food concessions and fireworks.
Brandon Bamburg will perform beginning about 5:30 p.m.
The park will be closed until 2 p.m so officials can prepare for the event, according to information from the city. People cannot bring alcohol or fireworks into the park or smoke in the park.
When the park opens, Tyler Transit will offer free rides to it with departures about every 30 minutes from Harvey Convention Center, 2000 W. Front St.; Tyler Junior College West Campus, 1530 SSW Loop 323; and Tyler ISD offices, 1319 Earl Campbell Parkway, according to a news release.
The Celebrate America Independence Day Fireworks Show is set for 6:30 p.m. Wednesday at Pleasant Hill Baptist Church, 13590 Texas Highway 110, south of Tyler. The free event includes refreshments, games, entertainment, a salute to the armed forces, the band 6 Miles to Mixon and a fireworks show.
Marvin United Methodist Church, 300 W. Erwin St., will have a free concert of patriotic music at 4 p.m. Thursday. The concert will feature music by the Marvin Chancel choir, organist Jonathan Story, the Rose City Brass and the Marvin Herald Trumpets.
Lago del Pino, a restaurant and music venue at 14706 County Road 1139 in Tyler, will have a celebration beginning at 6 p.m. Thursday that will include music by Dustin Becker, a hot dog and hamburger buffet, and a fireworks show. Admission costs $20 for adults and $10 for children 5-12.
Athens
The Texas Freshwater Fisheries Center, 5550 FM 2495, Athens, will hold a free fireworks show on the Fourth of July. Admission into the center will be free after 5 p.m.
Canton
Canton Chamber of Commerce and First Monday Trade Days will sponsor patriotic events on Thursday. A parade will step off at 6:30 p.m. downtown and a free fireworks show will begin at dark on the west side of the First Monday Trade Days grounds.
Chandler
Residents in the Chandler area can celebrate Independence Day with free activities in Winchester Park beginning at 6 p.m. on Thursday. Events will include a patriotic bike parade for children at 8 p.m. and a fireworks show.
Edom
First Baptist Church, 9714 FM 314, Edom, will present Freedom in Edom beginning at 6:30 p.m. Thursday at the church. Attractions include family activities, free hot dogs, snow cones and popcorn; and a fireworks show.
Jacksonville
Lake Jacksonville Association will launch fireworks from a barge on the lake beginning about 9 p.m. Thursday. A good viewing area is the Lake Jacksonville Concession Area on Byrd Road.
Kilgore
A free celebration is set for Thursday in Kilgore City Park beginning at 6 p.m. The Fourth of July Extravaganza will include food vendors, water slides, children's activities, a concert by the Chad Cooke Band and fireworks.
Lake Palestine
Bella Vista, a venue at 22424 Texas Highway 155 South, on Lake Palestine, will have a free celebration beginning at 4 p.m. Thursday. On the grounds will be bounce houses, food trucks, music and activities for children. A fireworks show will take place at dark.
After the fireworks show will be a party with live music. Admission will be charged to the party.
Overton
Overton's Fireworks in the Park will take place Thursday in City Park. Vendor booths, food concessions and children's activities will open at 3 p.m. Participants are asked to use the parking lot at the Community Center and a designated field. The fireworks will be shot off over the lake.
Palestine
The KYYK 4th of July Celebration begins at 9:30 a.m. Thursday in Reagan Park, 709 Crockett Road, Palestine. Attractions include a patriotic parade, holiday costume contest and talent show.
Troup
Fire in the Sky With Troup First Baptist Church is set for 5 p.m. Friday at the church, 17941 North Highway 135, Troup.
The free event will have refreshments, activities, carnival rides and a message from the pastor. The event will end with a fireworks show.
Winnsboro
In Winnsboro, the July 4 activities will start with a parade at 4:30 p.m. Thursday on Main Street. Other attractions will include a bounce house, activities for kids, concessions and a performance by Dale Cummings. Fireworks at City Park will begin at dark.