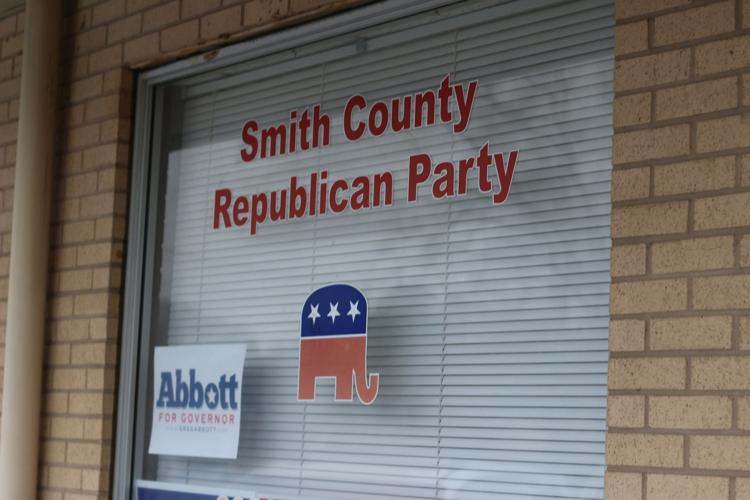 A dispute erupted again this week in the Smith County Republican Party over a list of people who are being asked to watch over polling places in November.
The Smith County Commissioners Court held an executive session Tuesday about pending or contemplated litigation regarding the list of election judges.
Election judges are people appointed by the two major parties who oversee individual polling places. Before every election, the county parties send lists of election judges to the county elections administrator, in this case Karen Nelson.
After the executive session on Tuesday, the Commissioners Court decided to approve a submitted list of Nov. 5 election judges for the Smith County Democratic Party, but did not take action on the list from the Smith County Republican Party.
"They left all of us off the list who are precinct chairs who have run our polling locations," Sharon Guthrie, the chair for Precinct 71, an area near Hollytree, said after the meeting. "I've done it for 28 years. He wiped all of us off the list and has put people with no experience to be election judges."
Guthrie was referring to party chairman Brent Thompson. Guthrie was one of many officials within the Smith County Republican Party who supported removing Thompson from his post after they said he had abandoned it. Despite the opposition, he has remained in his post but will leave when his term is up in 2020.
"Historically, when I came on in 1991 and was appointed to be precinct chair of Precinct 14 out in Lindale, they just told me it's your responsibility as precinct chair to be the election judge," Guthrie said. "So unless you turn it down, we expect you to do it. "
Back then, Guthrie said party officials paired her with someone who had experience so she could learn to be an election judge. She said the job isn't very difficult, but it does require people to know what they're doing.
"And so he's filled the list with people who have no experience in clerking or being an election judge to be election judges," Guthrie said. "And it's retaliation because 42 of our 45 were basically against him because he wasn't doing his job. So it's just being vindictive."
"So that's where we are, and Republicans are going to have a hard time this fall election (on Nov. 5) and next year (the primary is March 3) because the people who have been put on the list, we don't even know if they're Republicans," Guthrie said.
Although reached Friday, Thompson did not provide a comment before deadline. However, in a June interview after a contentious party meeting, Thompson said, "My role is to be fair to liberal Republicans, to moderate Republicans, and to conservative Republicans, to make them all feel welcome, and to promote whoever the primary chooses, whoever the voters (choose).
"As long as I'm the chairman, I will administer it with that in mind, that this party is not about choosing who gets to be a Republican, but executing the statutory responsibilities of the body, and I will do my best to unite that body as best I can."
At the time, Thompson compared the county's intraparty disputes to the factions that have formed in the national party. But he said he would stay in office because he was elected, and a small group of people should not be able to overturn the will of the voters.
"Elections should not be overturned by a party of 30 when thousands vote," Thompson said. "The office is always more important than the man. This isn't personal for Brent Thompson at all. It's for the office."
Elisabeth Ayub, spokeswoman for the Smith County Republican Party, said Thursday that the people involved in the dispute over election judges have come to a resolution. She said the primary administrator, Patricia Ayub, has been working with Nelson, the county elections administrator, and County Judge Nathaniel Moran.
"We have a list that is acceptable," Elisabeth Ayub said. "This really has just been about polarizing politics. However, we feel very positive about the direction that we're moving and the list, and it'll be presented back to the Commissioners Court on Tuesday."
Ayub said the list includes a majority of people who have previously served, minus about 10% who retired from doing it.
"I think whenever you use new names people get leery, but these are people who are very much affiliated with the party," Ayub said.
TWITTER and INSTAGRAM:
@_erinmansfield