Tyler Rep. Matt Schaefer's gun comments provoke national rebuttal and support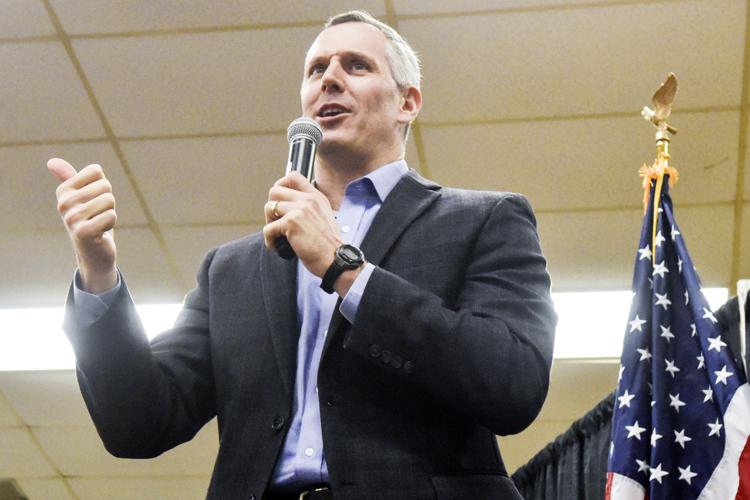 The state representative for most of Tyler and Smith County entered the national spotlight on Saturday when he said he would not support changing gun laws after a mass shooting in Midland and Odessa.
Locally, the comments have drawn support, with many of his supporters calling his views common sense; elicited criticism from constituents who support stricter gun laws; and spurred one person to begin organizing discussions about gun reform.
Rep. Matt Schaefer, R-Tyler, wrote on Facebook and Twitter around 9 p.m. Saturday that he would defy calls to "do something" in response to mass shootings, such as the one on Saturday that left eight dead and nearly two dozen injured.
He blamed the shootings on evil intent, and said he instead would support more prayer, ending situations in which fathers leave their families, and allowing single moms to carry handguns, among other proposed solutions.
"I am NOT going to use the evil acts of a handful of people to diminish the God-given rights of my fellow Texans," Schaefer wrote. "Period.
"None of these so-called gun-control solutions will work to stop a person with evil intent," Schaefer wrote. "I say NO to 'red flag' pre-crime laws. NO to universal background checks. NO to bans on AR-15s, or high capacity magazines. NO to mandatory gun buybacks.
"What can we do? YES to praying for victims. YES to praying for protection. YES to praying that God would transform the hearts of people with evil intent. YES to fathers not leaving their wives and children. YES to discipline in the homes. YES to supporting our public schools.
"YES to giving every law-abiding single mom the right to carry a handgun to protect her and her kids without permission from the state, and the same for all other law-abiding Texans of age. YES to your God-given, constitutionally protected rights. YES to God, and NO to more government intrusions."
The comments were picked up by news organizations including Newsweek, CNN, Slate, Esquire.com, Fox News and USA Today.
An opinion writer for The Washington Post used Schaefer's comments in a piece called "Texas Republicans just don't get it," saying Schaefer's Facebook post represents "the kind of statement that the vast majority of Americans would find infuriating."
Alyssa Milano, an actress and liberal activist, wrote on Twitter: "Can someone cite which passage of the Bible God states it is a God-given right to own a gun? This guy is unbelievable and is clearly owned by the gun lobby."
U.S. Sen. Ted Cruz, R-Texas, came to Schaefer's defense on Twitter. He responded to Milano with 10 tweets in a row about self-defense. He said that her question about guns in the Bible was valid but should not be left to being snarky on Twitter.
"The right to self-defense is recognized repeatedly in the Bible, e.g. Exodus 22:2: 'If a thief is caught breaking in at night & is struck a fatal blow, the defender is not guilty of bloodshed.' (Note, though, verse 3 says it IS murder if during daylight, i.e., not self-defense.)"
Schaefer and Cruz are both popular politicians in Tyler and Smith County. Cruz has visited Smith County several times in the past few years.
Schaefer is in his fourth two-year term in the Texas House. Elected in 2012, he fended off primary challenges from Skip Ogle in 2014 and Ted Kamel in 2018; and a general election challenge from independent Neal Katz in 2018.
Schaefer has defeated all of his opponents handily and enjoys consistent fundraising from constituents and political action committees. He is an officer in the U.S. Navy Reserve and attends Green Acres Baptist Church.
"I have had tons of positive support from people who agree with my statements, locally and nationwide," Schaefer said in a text to the Tyler Morning Telegraph Tuesday. "And I've had tons of negative comments from those who don't agree, including a lot of hateful and vile messages.
"I believe I said what a lot of people are thinking. People who don't want to let lunatics diminish our rights. It's easier to talk about changing laws than it is to talk about hearts that need to be changed."
On his Facebook page, Schaefer's post from Saturday received 1,600 angry replies, 1,300 "likes" and about 500 "love" replies.
"Thank you for being bold and standing up for common sense, something you think would be easy," Todd Kelly wrote in response to Schaefer's Facebook post. "Problem is, it's not being taught at home anymore. Rights, what a fragile thing they are, and yes they are God given." Kelly wrote that he supports Cruz and Schaefer.
A user named Greg William wrote: "Thank you for supporting our rights and not caving to the unhinged emotional pleas."
Jennifer Long Moulton said: "Make sure you let Abbott know this is how it SHOULD BE! Thank you for standing up Sir!"
Sue Bickerdike Phillips said: "Thank you Matt Schaefer for your stand for second amendment! Also, for lining up what needs to happen in our homes. God first....!"
Kerrigan Sanders, the president of the Smith County Young Democrats, wrote: "Thoughts and prayers are not enough Representative Schaefer to combat the gun violence that is happening in Texas and nationwide.
"Two of your constituents (were) in Midland and Odessa for a meeting, and instead of coming to combat this you are telling me what you are not going to do," she wrote, referencing herself and a colleague, who were not harmed in the shooting. "How are we supposed to feel safe?"
Greg Grubb, the executive director of the anti-poverty organization PATH, replied: "Your position is very clear. YES to thoughts and prayers and more guns (including assault rifles), NO to any legislative steps to address the violence. Clearly we must look for solutions and relief elsewhere."
On Saturday, activist Julie Gobble created a Facebook group called "Gun Reform > Do Nothing" and urged people to meet at a Tyler coffeehouse to discuss issues. She said the group plans to hold more talks about gun reform.
"There is so much misinformation being spread right now in the midst of the deadliest year that Texas has ever seen for mass shootings," Gobble said in an interview. "It is not the time to have misinformation. It is the time to be proactive."
Schaefer did not respond to a request for comment on Tuesday. He posted about guns on his Facebook and Twitter pages on Monday, in response to former U.S. Rep. Beto O'Rourke, who said Americans would have to sell their AR-15s and AK-47s if he were president.
"No Beto. Americans will not," Schaefer wrote.
TWITTER and INSTAGRAM: @_erinmansfield