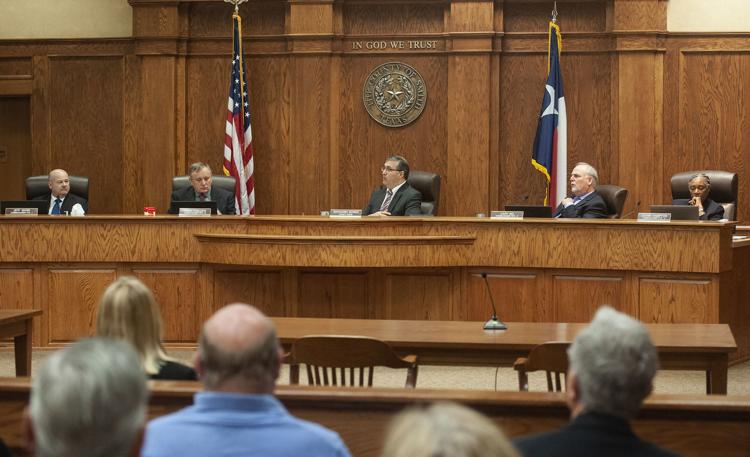 Smith County officials have voted to raise the property tax rate by about three-quarters of a cent, the second year in a row they have approved an increase.
The Smith County Commissioners Court voted 4-1 at its Tuesday meeting to raise the property tax rate from 33.7311 cents per $100 of 2018 property value to 34.5 cents on 2019 values.
The rate will increase tax revenue by $4.6 million over the previous year, including about $1.8 million from new property, and the rest from increased appraisals on existing property.
The Commissioners Court also voted to approve the corresponding fiscal year 2020 budget, which calls for increases in several areas, including the sheriff's office, information technology and employee pay, among other things.
The only amendment to the budget since the Commissioners Court proposed it last month was to increase the Smith County treasurer's pay another roughly $2,000, as recommended by a grievance committee.
The Commissioners Court's approval of the increased tax rate came despite opposition from residents, the Greater Tyler Association of Realtors and Grassroots America-We the People political action committee.
The sole opposing vote came from Commissioner Terry Phillips, who said the county could meet its needs without raising taxes.
"These appraisal increases are a tax increase to our citizens and we're strapping that to their back and there's no reason that this county cannot live on that (appraisal value) increase," Phillips said.
"And I would agree with some of them (who say) it's not really fair to say we're doing it because of law enforcement and all that," Phillips said. "We still could have met the needs of the sheriff's department, I think."
Commissioner Cary Nix said this is the first time in almost a decade he has voted for a tax rate increase that was not voter approved, but he has weighed the county's options for paying for recurring expenses.
Last year, the Commissioners Court raised the property tax rate specifically to pay for debt service on a $39.5 million road bond that voters approved in November 2017.
"Recurring costs are our core responsibilities," Nix said. "These are funding the courts, law enforcement and infrastructure. Additionally, there are other costs that should be funded with recurring revenue.
"It's not prudent, or good business, to think we can pay these costs out of our reserve funds year after year," he said. "Our estimated reserve fund is going to be about 26.5% in 2020, with our policy set at 25%.
"In the past few years, this court has done a good job of drawing this fund down so that we didn't have to raise taxes," he said. "This year alone, we have moved $5.3 million in reserves for capital improvements, fleet purchases and other expenditures."
Commissioner JoAnn Hampton thanked County Judge Nathaniel Moran.
"I want everyone to know, It's hard to make a decision to raise anybody's taxes," Hampton said. "We pay those same taxes as everybody else pays.
"This county has been very prudent," Hampton said. "I've been on this court nearly 16 years and we only raise taxes when we have to and have no choice.
"We have obligations out there (like the) courthouse, indigent population, safety, roads and bridges," she said. "All of that comes from the budget that we have."
Commissioner Jeff Warr said during the meeting that his precinct — which includes Flint, Gresham and Noonday — is growing rapidly and the county needs to keep up with the communities.
"This budget will continue to provide funds for needed road infrastructure and help meet our needs for public safety, which are the two core responsibilities for any government," Warr said in a prepared statement. "We do this while continuing our commitment to have one of the lowest tax rates in the entire state of Texas."
Moran repeated his view that the budget increases the tax rate to pay for ongoing expenses, and makes capital purchases from the county's reserves, which his similar to a savings account.
The capital expenditures include about $1 million for information technology equipment; $800,000 for new vehicles; $400,000 for a new jail generator; and $500,000 for a contingency fund.
Moran said if those capital expenditures were paid with the tax rate, it would be about 3 cents higher per $100 of property valuation.
He said the property tax revenue is going to additional money for the Road and Bridge Department. He said that would make sure that roads are not in the same level of disrepair as they were leading up to the 2017 road bond vote.
He said the public hearings where people spoke out against the property tax rate increase have helped the county address what appropriate tax policy should look like.
"If I propose a really low tax rate but I'm using the money inappropriately, you need to call me on it," Moran said. "If I've got the tax rate set way too high and I'm using the money inappropriately, you need to call me on it."
TWITTER and INSTAGRAM:
@_erinmansfield