"I'm not writing you because I want you to feel sorry for me or wrong about me. I'm writing this letter so you know if I don't make it out of here you need to hire a lawyer and make them pay for killing me. I feel like it's just a matter of time until I'm sick, and with my condition I don't see much hope."
Bradley Ferguson, 52, was looking forward to reentering society in January, but problems with paperwork pushed his parole hearings back until mid-summer.
He had a good shot of being paroled from the Beto Unit in Tennessee Colony. He had earned trusty status for good behavior, he had no history of violence and he had plans to help deal with a drug addiction problem so he would never have to go back to jail.
Then the coronavirus hit Beto Unit. Within weeks it became the epicenter of the outbreak in prisons across Texas.
Now he and his family are afraid he may die behind bars as the coronavirus moves through prison population in Beto Unit.
"He's in a lot of danger, because for two years they had not scheduled surgeries that needed to be done ... We'd like for him to get out as soon as possible," Norm Ferguson, his father, said. "It's slow and usually by the time we get to communicate to him, it's already past the time to do something."
He said that although his son is afraid of retaliation for speaking out, he's more afraid of what will happen if no one does. He is not alone in seeking outside help. Inmates from county jails and state prisons have reached out to the Tyler Morning Telegraph seeking help in this unprecedented crisis.
Bradley Ferguson has a history of arrests for misdemeanor drug and theft charges and acknowledges that he has hurt his loved ones with his bad behavior.
He had a felony theft charge out of Navarro County in 2006. In 2017 he was arrested by the Mineola Police Department for unlawful possession of a firearm. Ferguson reached a plea deal to serve his time concurrently for the firearm charge and an unrelated drug possession charge. He was given credit for 215 days already served.
In a letter to the parole board, his father wrote that he adopted Bradley as a newborn and believed Bradley's troubles started in high school when his adopted parents divorced. Those bad decisions he started making as a teenager locked him into a cycle of addiction and lifelong consequences.
Prior to his most recent incarceration, Bradley had been on a better path, living in Gladewater in a home provided by his employer, and regularly came around to help family, said his father.
Norm Ferguson, who is 86, said that at his age, he really needs that help.
In letters to his father from prison, Ferguson writes often about family, and mending relationships. He appeared to be holding himself accountable for the actions he had taken that had strained relationships with other loved ones.
Norm Ferguson shared months of correspondences between himself, Bradley, the parole board and others to the Tyler Morning Telegraph to help bring to light the conditions prisoners are describing while serving sentences at prisons in Anderson County since the outbreak of the coronavirus.
The correspondences include court documents, letters to the parole board, letters to family decorated with drawings, handmade cards Ferguson created and more.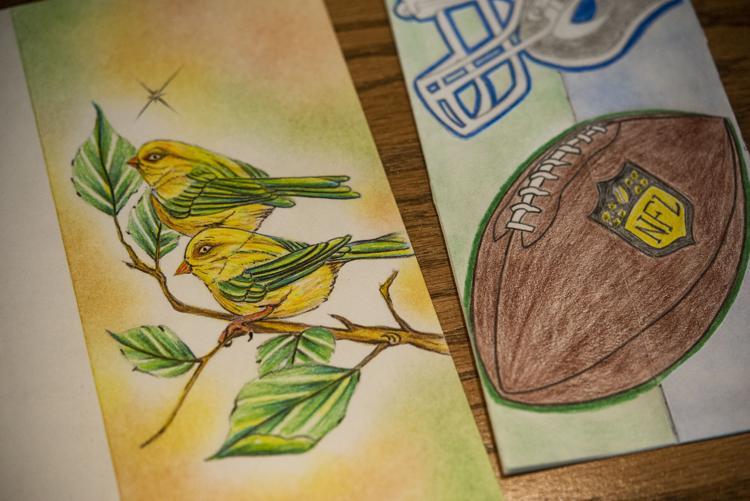 When the coronavirus began showing up in Texas prisons, parole hearings were pushed back, families were left unable to visit and inmates began to question what was being done to keep them safe. A deadly disease had gripped the prison, and was spreading rapidly. Inmates were so afraid of being moved into areas with those who had tested positive for COVID-19 that they began to hide symptoms. The Texas Department of Criminal Justice, which runs state prisons, did not respond to a request for information about how COVID-19 is impacting East Texas prisons.
Letters from inmates, and interviews with family members of inmates, describe the mounting fear and uncertainty that have gripped the Texas prison system.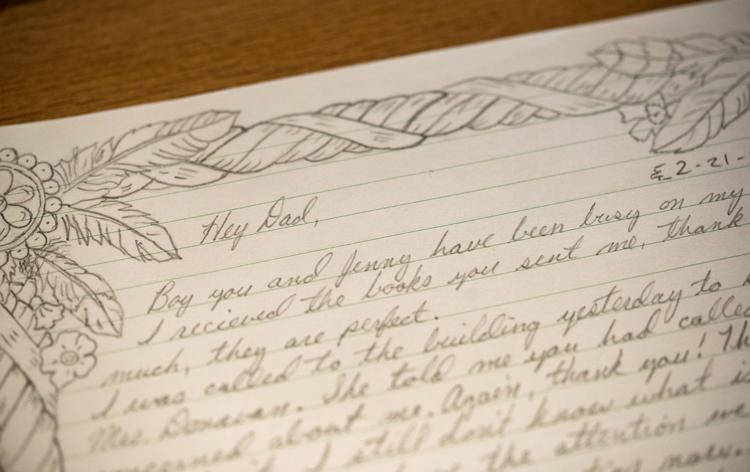 "I'm hoping maybe you can send me a couple books? If you can, will you check Amazon to see if they have any books on tiny houses, or cabins or cottages," Ferguson wrote to his father on Feb. 7. "I need some material to get my mind out of here."
Bradley was making plans for his future, dealing with the disappointment of not being released in January as best he could.
His relationship with his father was strong. Each letter came with hand-drawn artwork. He even made cards and drawings for other inmates to send to their families.
"It was real nice to see you at our visit," he wrote on Feb. 11. "You just can't believe how it is to see someone you love when you are in a place like this."
In a letter enclosed with a drawing of an eagle, Ferguson said that he wasn't quite the artist his sister is, but he draws for peace of mind. He also frequently thanked his father for sending books to help him get away in his mind.
Norm Ferguson was counting the days until his son would be released. Norm is still sharp and capable, but recognizes he needs help around the house. He wrote letter after letter to the parole board, lobbying for his son to be released, detailing the plans he was making to become a healthy, productive member of his community.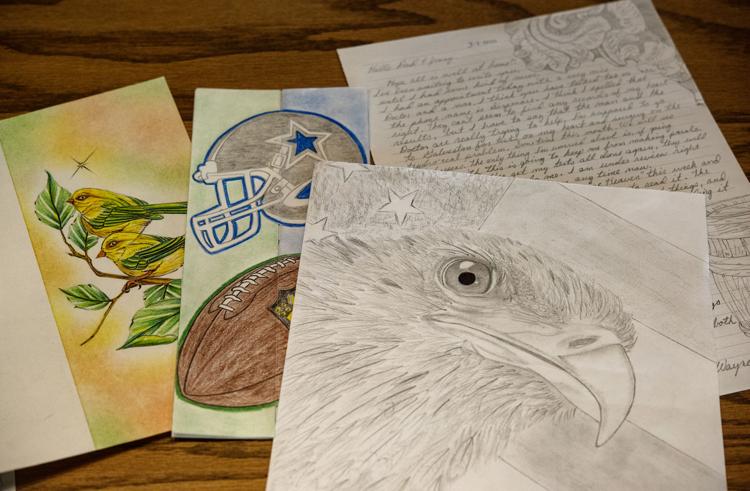 In late February the state began looking to minimize the risk of spreading the coronavirus in prisons by releasing nonviolent offenders. The Fergusons again had hope.
"I still can't believe they took my parole from me," Ferguson wrote on Feb. 21. "From what I've heard, they are trying to give parole to people of my age, eligibility, and medical status like me. I fit all the requirements."
His medical status put Ferguson at high risk for COVID-19. He had already had a history of COPD, strokes and heart problems, and had two surgeries while in custody.
In late March, TDCJ began locking down prisons as cases of COVID-19 began to appear. Because the virus is known to spread quickly in confined spaces, with many carriers appearing asymptomatic, the Texas prison system recognized how serious the threat was and began taking preemptive action at the five units located in the Tennessee Colony complex, which make up one of the state's largest prisons.
"Visits have been canceled due to the COVID-19 virus, for 30 days. This is my last stamp unless someone buys a card or drawing," he wrote on March 18. "So I hope we get visits back soon, so you can come see me. I miss you."
Recently his father had began sending Bible studies, and Ferguson had shared them with his fellow inmates. They were relying on faith to help them through.
"I'm sharing all the lessons you have sent me with the guys I live with and it seems like they can't get enough," he wrote on March 29. "They all said thank you for taking the time to send them to us."
On April 4 his father wrote back, encouraging his son to have faith.
"Take care of yourself … we will see you when God can move on the powers that be to work these things out," his father wrote.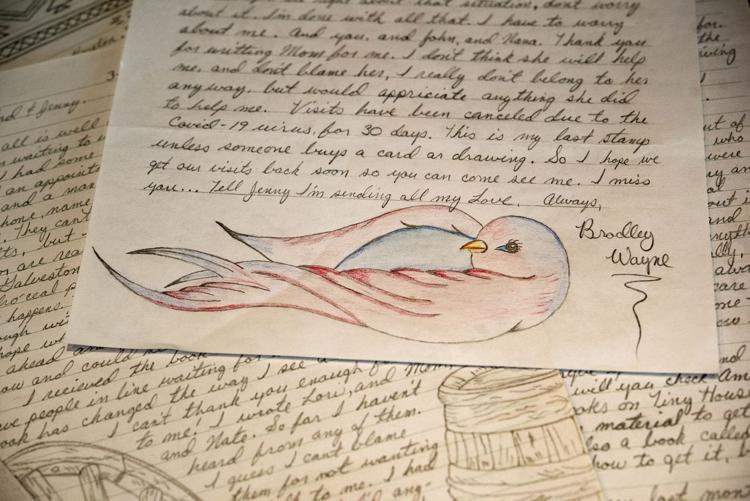 April 5 — TDCJ announce six inmates test positive for COVID-19 at Beto Unit
Days later, the tone of Ferguson's letters shifted from nervous uncertainty to fear. On April 6 he said the prison had gone into lockdown. Ferguson said he was in a dorm with 100 men, just a few feet apart from one another in any direction.
All hope of early release was lost when TDCJ locked down the Beto Unit after an outbreak infected dozens of inmates and guards.
"Dad, I have a lung disease and a heart problem, I'm scared!!" he wrote.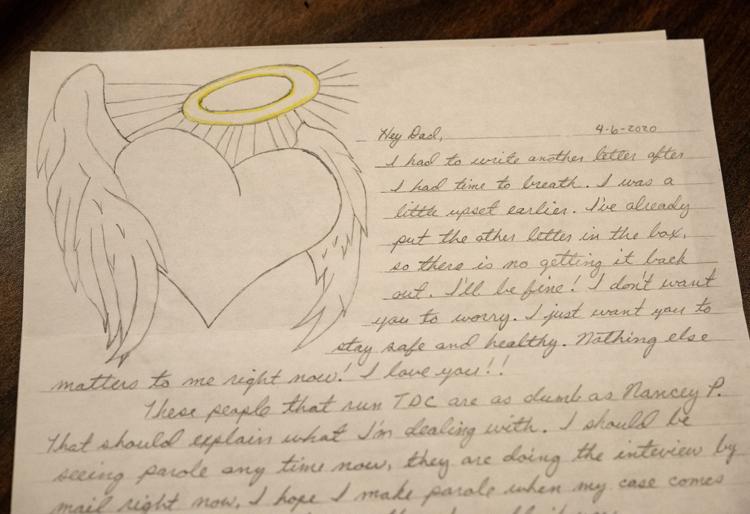 Hours later he wrote a second letter, adorned with the word "Faith" in block letters along one side, and a winged heart with a halo at the top.
"I had to write another letter after I had time to breathe. I was a little upset earlier," he wrote. "I've already put the other letter in the box so there is no getting it back it. I'll be fine! I don't want you to worry. I just want you to stay safe and healthy. Nothing else matters to me right now! I love you!!"
A feeling of helplessness had settled in. The prisoners were no longer allowed on the yard for recreation or to work. He also was struggling with getting enough to eat as the prison had shifted from hot meals to sack lunches.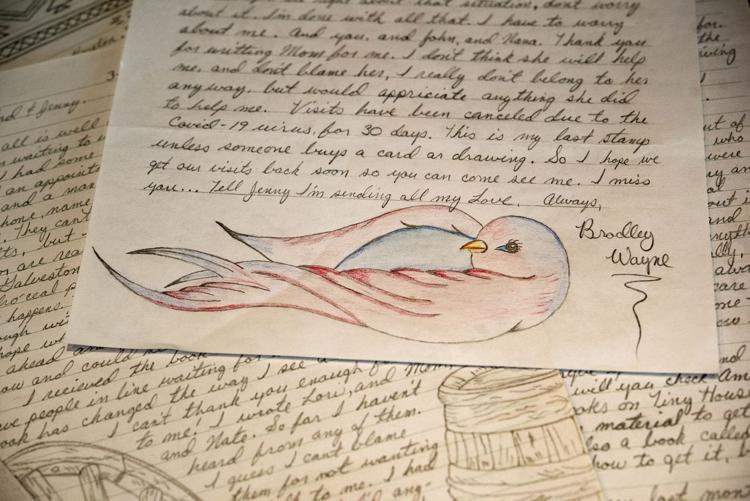 "I don't know why they are forcing us to be locked up in this little building when we are trustys and were able to get outside in the fresh air," he wrote. "It's like they're trying to make sure we have an outbreak. None of this makes sense!"
April 9 — TDCJ announces Beto Unit has 23 prisoners with COVID-19
Days later Ferguson said he was moved again and sent back to work on laundry duty.
"When I told the sergeant about my medical conditions, she said that because I went to the building Monday, I was already exposed so it didn't matter," he wrote on April 10. "I'm telling you, there is no possible way for social distancing because our bunks are only four feet apart. They are not enforcing opening of windows, and we are not allowed outside to get fresh air."
Ferguson described the situation as akin to a disciplinary lockdown, and estimated they were receiving only about one-third of the food they had been.
News releases from TDCJ had began offering a glimpse of the scope of the outbreak at the prison by this point.
It was around this time that Beto Unit inmate James Matthews began showing symptoms and had been tested for COVID-19.
In that April 10 letter Ferguson said he felt like it was inevitable that he would catch the virus, and with his health conditions succumb.
A few days later Ferguson was finally given cause to feel optimistic, but events at the prison would quickly snatch that hope away.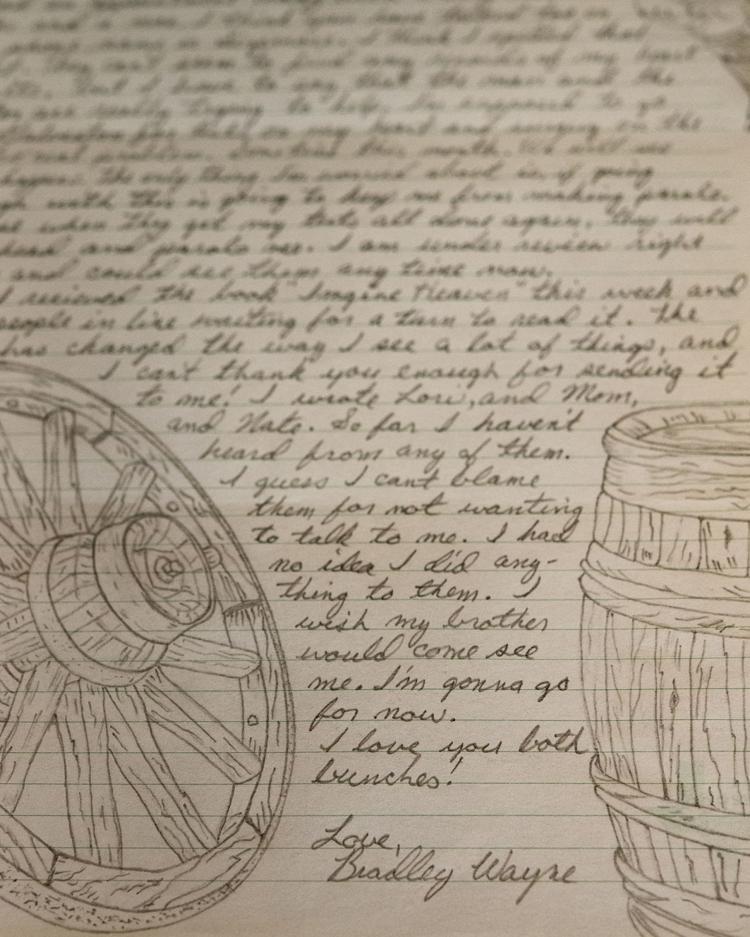 April 13 — TDCJ announces Beto Unit has 72 positive cases
"I love you … I hope you are well and don't have COVID-19!? I finally have good news!" he wrote on April 13. "My prayers are being answered and I'm glad Jesus loves me, even though I haven't always done the right thing. I got my parole interview today, so let's pray now for an answer to grant me parole."
James Matthews was found unresponsive in his cell that day.
It would be more than two weeks before TDCJ announced Matthews had died.
Nearly a month after he was tested, it is still unclear why Matthews was left in his cell after being tested for the virus, why he was not under closer supervision for his symptoms or why his death was not announced until April 30. His was the earliest death of the four announced that day.
April 17 — More than 120 inmates with COVID-19 are transferred out of Beto and Telford Units
"This place is a powder keg. Everyone is high tension now that people on the wing are getting seriously sick," wrote another inmate.
The letter, with the name removed, is among a group sent by family members who were petitioning TDCJ for help.
That inmate kept a day-to-day update from April 17 to 19, detailing what was happening in the prison.
"Well (an inmate) has been sick and not telling anyone. It caught up to him today. He was standing and coughing in his cell and then he just fell flat on his face," the inmate wrote to his wife. "A lot of people are getting sick, but they are scared to tell because they will be moved. The mayor (of Palestine) is right that the tests aren't being done. I noticed the news said they have been taking our temperature twice a day. They haven't taken anyone's temperature. Not even once since this pandemic."
He said it was April 19 when mandatory temperature checks began. He said his temperature initially came back first as 99.8 and later within acceptable range, his cell mate's was 103.3 degrees.
"My celly has to go to the infirmary," that inmate wrote. "I am hoping they don't move him, but I am sure that they are."
On April 22, Ferguson wrote to his father that the lockdown had been going on for 16 days, and they still were receiving a small amount of food. He said inmates could no longer use the phone or go to the commissary for supplies. While commissary visits had been promised, without them inmates would no longer be able to buy stamps, writing materials or soap.
"When family calls here to check on loved ones they are told we are fine and there is no movement. Locked down!!! That's not true. The trusty camp is locked down, no fresh air, no sun, no exercise," Ferguson wrote. "They won't let anyone use the phones, we haven't been to the store in three weeks. They say, (it's) to keep us from getting infected. Well there are three dorms, and one is the high-risk dorm. I am in it! They are telling the outside world we are not being exposed, but they are not telling the truth."
Ferguson detailed movement he saw of certain inmates going to different areas to work and guards moving from camp to camp.
"It makes me feel like our system is very unjust ... " Norm Ferguson said. "I'm very anxious to get something done. We've done all that we know to do, and it seems like the wheels of progress aren't turning."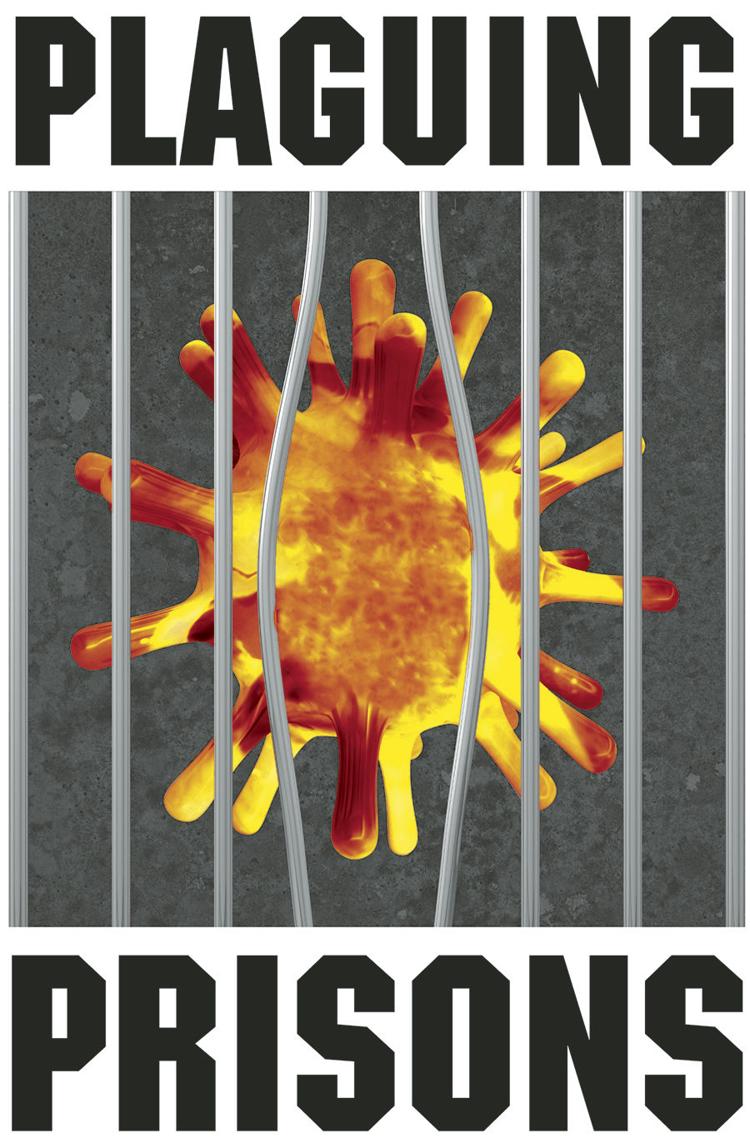 On May 4, the Texas Tribune reported that Beto Unit had more than 200 total cases. The full scope of the outbreak is unknown at this time due to inmates being taken off of the active case lists due to "recovery" or transfers.
"It's like they're trying to make sure we get sick. I can't believe how stupid the people in charge are … ," Ferguson wrote. "They need to be exposed for the lies they're hiding behind. It's a shame some people will die with nonviolent or petty charges because of the poor handling of the situation. Because of pride, they are going to cost the lives of people's husbands, fathers, uncles and friends."
That was the last letter Norm Ferguson received from his son. In that letter he had urged his father to contact state representatives or the media, hoping someone would be able to help them. Norm is unsure what condition his son is in now, and is waiting for the next letter to come.