Las Vegas is the ultimate adult playground with no shortage of hotels, casinos, quality restaurants and headliner performers filling a good amount of the city's commercial real estate.
Las Vegas Strip resort operators such as Caesars Entertainment  (CZR) - Get Free Report, MGM Resorts International  (MGM) - Get Free Report, and Wynn Resorts  (WYNN) - Get Free Report book many of the biggest entertainers available to hopefully draw more guests to their hotels and casinos.
DON'T MISS: Iconic Las Vegas Strip Resort Casino Adds a Major Attraction
Over past years, Las Vegas was known for hosting long residencies featuring Liberace, Frank Sinatra and the Rat Pack, and Elvis Presley. Hometown legend Wayne Newton, who first headlined at the Fabulous Flamingo Hotel on the Strip about 60 years ago, is still performing to crowds at the hotel's Bugsy's Cabaret.
The entertainment has evolved over the years with today's superstars taking the stage for residencies in recent years, including Celine Dion, Lady Gaga, Adele and Katie Perry.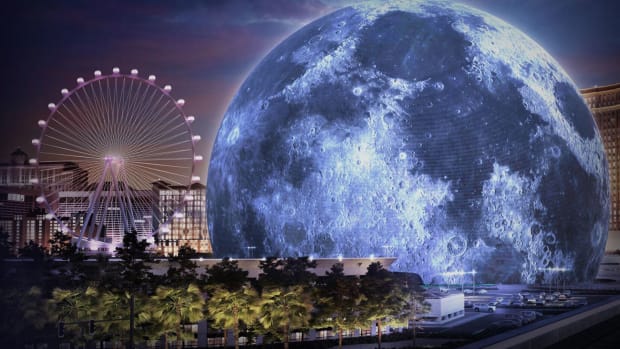 U2 at the Sphere is the Hottest Ticket in Vegas
The hottest tickets in Vegas today are for rock giant U2's 25 performances that open Sphere Entertainment's  (SPHR) - Get Free Report Sphere at the Venetian on the Las Vegas Strip, which begin Sept. 29, with Dec. 16 listed as the final show so far.
U2 began ticket sales on April 27 for its residency with five sold-out shows, which quickly expanded to 17 sold-out shows. Ticket sales sold out in the U2.com subscriber and Verified Fan Presale before Ticketmaster could have a general public sale. The band and the Sphere on May 12 added eight more shows on Dec. 1, 2, 6, 8, 9, 13, 15 and 16. These shows will surely sell out quickly as well.
Rumors say that popular solo artist Harry Styles might be the next performer to take residency at The Sphere after U2 departs.  
When Elvis opened the then-new International Hotel just off the Strip on July 2, 1969, it would become the longest running residency in Vegas, as he would perform an estimated 636 sold-out shows through his final performance in Las Vegas on Dec. 12, 1976.  During that time, the hotel would become the Las Vegas Hilton and much later the Westgate Las Vegas Resort and Casino.
Currently, 1970s pop star Barry Manilow makes the International Theater at Westgate his home and his residency is expected to pass Elvis's record at the property in September, the Las Vegas Review-Journal reported. But Westgate still has room for another legendary performer.
Frankie Valli Brings Four Seasons to Iconic Hotel Casino
Westgate has revealed that Frankie Vallie and the Four Seasons, with such hits as "Sherry," "Walk Like A Man," "Big Girls Don't Cry," "Rag Doll," "December '63 - Oh What A Night" and "Can't Take My Eyes Off of You," will return to the Westgate International Theater for a 14-show residency that will run from Oct. 26, 2023 through Oct. 26, 2024. Tickets are available for shows on Oct. 26-27, 2023; Jan. 12-14, 2024; April 4-6, 2024; July 4-July 6, 2024; and Oct. 24-Oct. 26, 2024.
Around that same time frame, Westgate is also bringing back rhythm and blues/funk group Kool & The Gang, whose hits include "Celebration," "Jungle Boogie," and "Get Down On It," for an 11-show residency at the International Theater from Oct. 5, 2023, through Oct. 5, 2024. Those shows are set for Oct. 5-7, 2023; Feb. 9-10, 2024; May 24-25, 2024; Aug. 2-3, 2024; and Oct. 4-5, 2024.